Imagine making a decision that could lead to life or death in a split second. That was the case for a Paladin Security team in Newfoundland – and they came out as heroes.  
In the early morning of August 23rd, 2022, Shift Lead Aaron Mills, and Security Officers Logan Dunn and Tyler Chaytor were called into action at a hospital in Newfoundland. Aaron received a call just before 1:30 am advising him of a youth patient who escaped the emergency department. Moments later, he was told someone was on the roof of the building. When he and Logan arrived on the scene, they found a teen standing on the ledge, threatening to jump. What happened next was a series of quick-thinking events that ended up saving the girl's life. 
STRONG COMMUNICATION AND QUICK RESPONSE
In a split second, Logan sprang into action and climbed over fencing and rooftops to reach the girl. But once he got there, he could see the teen moving over the roof's edge. Logan ran over to her, grabbing her arm before she fell to the pavement below.  
Despite Logan holding on to her with all his strength, there was little on the roof's ledge to grip onto. The girl was frantically dangling, almost slipping out of his control. He reached even further, grabbing the waist of her pants, which helped him pull her up to safety. The team kept her safe until the Royal Newfoundland Constabulary Police Service responded.  
APPLYING LEARNED SKILLS
The team continued to tap into their non-violent crisis intervention training to keep the girl calm until police arrived. During this time, the girl tried again to leap off the roof but was swiftly pulled back to safety. Tyler helped guide the RNC to the rooftop, who then took over and returned the girl to the emergency department.  
The collaborative team effort in this incident shows exceptional service, and the regard for ensuring healthcare remains a safe and caring environment. The team didn't hold back, deploying many skills within a short window of opportunity, which allowed for the incident to end in success.   
The whole team received recognition for their courageous efforts from Paladin Security as well as from the Regional Protection Services managers. Paladin Security and RPS are incredibly proud of the team's efforts.  
"Outstanding work by all involved, especially Aaron and Logan. Heroic effects by both officers," said Liam Walsh, a Client Services Manager in St. John's. 
HEALTHCARE TRAINING
The team felt equipped and was able to successfully mitigate the situation because of the world-class training Paladin Security provides, including: 
Non-Violent Crisis Intervention Training

 

Dealing with People with Mental Illness Training

 

Management of Aggressive Behavior

(MOAB) 
Working in healthcare security requires 40-120 hours of specific training in addition to the 40 hours completed for basic security officer training. As a result, Aaron, Logan and Tyler were effectively able to react to the call.  
ABOUT THE OFFICERS
Aaron joined Paladin in October 2021, where he quickly advanced to Shift Lead through hard work and dedication. He has a degree in Police Studies, and Sociology & Criminology and has gained valuable knowledge through Paladin's training programs, such as MOAB and NVCI.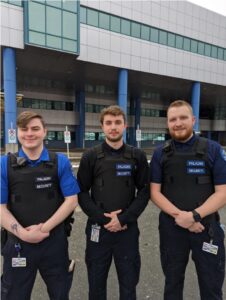 Logan started with Paladin a month later, also moving into a Shift Lead role quickly. He brings experience from the Canadian Armed Forces Infantry (Reserves) 1st Royal Newfoundland Regiment and completed training in Aldershot, New Brunswick. He applies both his education from the Military and Paladin and demonstrates a high level of integrity in his actions. 
Finally, Tyler began his career with Paladin in December 2021, following his interest in security. He rapidly gained knowledge and has been able to apply it to a number of emergency situations successfully.  
All three officers embody Paladin's CARE Culture – Curious, Accountable, Respectful, and Exceptional. Each proved to their teammate that they could be counted on while going above and beyond their duty for a positive outcome.  
 (Photo above from left to right: Security Guard Tyler Chaytor, Shift Lead Logan Dunn, and Shift Lead Aaron Mills)
JOIN THE PALADIN TEAM
Inspired by our team's story and iInterested in a career in security? Check out our careers page and apply now! Also, be sure to listen to The Difference Makers podcast and read our blog to learn more about why Paladin's training is so unique.
Reader Interactions