"Security is not a product, but a process."
- Bruce Schneier
Modern Security Officer equipment is designed to help security professionals complete their job to the highest possible standard. There is a lot more to the tools that Security Officers use on a daily basis to keep our communities safe and make the world a better place through their heroic acts.
Paladin has earned a national reputation as the leading training organization within the security industry. We take great pride in teaching others who may not have had previous experience in security to know how to help others, care for themselves, and create a safe environment. We call it the "give-back approach". We are helping security professionals understand the tools and techniques needed to manage critical situations that may arise in a security career. Paladin Officers can take advantage of specialized training courses for their specific site as well as sharpen their skills, knowledge, and abilities to grow, meet a career goal in protection services, and become the everyday heroes that they are.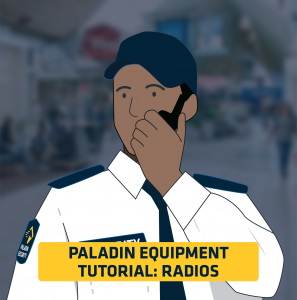 That is why we have created this monthly mini-series to showcase some of the equipment/gear that our Security Officers are using every day to help them go above and beyond and instill The Paladin Difference. Our previous topics were Naloxone, Flashlights. This time around we will talk about one of the most essential security tools: Radios.
Security professionals have been using radios since the 1920s. In an industry where you're talking about protecting people, communication is everything. The ability to communicate with your team in a fast and effective manner can make a huge difference. Not only does it make it easier for you to communicate with colleagues, dispatch, or other emergency services, but it's also a way to learn more about your environment and the goings-on of your workplace so that you can do your job in the best way possible.
If you're a security professional looking to understand the best practices, tips, and information on how to use a radio, this is the right place.
Radio Comms 101
Calling on the radio
Push the PTT (push-to-talk) button
Keep in mind that there is a slight transmission delay
Maintain a consistent, calm speaking pace as you relay your message
Slow down and articulate as you talk, to ensure that whoever is on the other end, understands you
Make sure you set it to the correct channel
Radios are a key element of your communications strategy, and if you don't use them properly, you'll find yourself in a tight spot.
Best Practices
Identify Yourself and Your Recipient
Identify yourself and then address the intended recipient by name or call sign
Wait a moment for confirmation to make sure they are ready to receive your message
Keep Messages Short
Know what you're going to say before keying up your two-way radio record
Keep messages short and concise
Let Others Speak
When you're done speaking, allow others a chance to respond
Be patient
Be cautious not to cut someone off while they're speaking to avoid confusion
Don't speak too loudly into your radio, as this can interfere with other users' signals.
Do learn the codes
Every security professional should know the codes used by their radios. Whether these codes are universal across the industry or specific to your company, this knowledge will make it easier for you to listen in on conversations that are relevant to your work, as well as speak in code when necessary. Make sure that everyone on your team understands them, too!
The 10-codes can be different depending on the site. Specific training while on-site will address this.
10-Codes Examples
10-0 Use Caution
10-1 Signal Weak
10-2 Signal Good
10-3 Stop Transmitting
10-4 Message Received
10-5 Relay
10-6 Station is busy
10-7 Out Of Service
Don't share codes with unauthorized people
Codes are meant to be secret and secure, so make sure that only authorized personnel have access to them. This can be done by keeping copies of codes locked up and limiting access to them as much as possible—it's probably best not to memorize them at all, but if you must, be careful not to discuss them with anyone who doesn't need to know!
Learn the Phonetic Alphabet
Using the standard "NATO" phonetic alphabet (actually the International Radio-Telephony Spelling Alphabet) to spell out names, locations,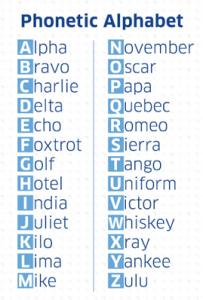 and so on makes accurately understanding messages a lot easier because many letters can be easily confused when heard over a crackly radio link (B, C, D, P, T and M, N and F, S, etc.). Its creation is meant to make sure that each chosen word sounds different from the others and is pronounceable by speakers of all the European languages, not just in English. For example, "Victor" clarifies the letter "V", so recipients easily hear the letter.
Dos and DON'Ts
DO:
Always carry your radio with you while on the job
Make sure your radio is charged before using it
Turn off your radio when not in use
Use your radio to call for backup if necessary
DON'T:
Leave your radio unattended or unsecured for any length of time
Use the radio to talk about non-work stuff—you never know who might be listening!
Talk about sensitive information over an unsecured channel
Paladin has earned a national reputation as the leading training organization within the security industry, and it is because of our training experts that we have earned such a prestigious title.
Our company-paid training goes beyond current industry standards, ensuring that our employees are ready to perform with the tools and confidence they need to be successful. Be sure to listen to Episode 5 of The Difference Makers podcast to learn more about why Paladin's training is so unique.
If you are interested in starting a meaningful career in security and making a difference in your community, check out our careers page for all our opportunities within Paladin. We would love to see you grow with The Paladin Family.
Reader Interactions