"Security is not a product, but a process."
- Bruce Schneier
Modern security equipment and gear are designed to help security professionals complete their job to the highest possible standard. But there is a lot more to the tools and techniques that Security Officers use daily to keep our communities safe and make the world a friendlier place. That is why we created this monthly mini-series where we share useful tips, best practices, and tutorials around security equipment.
Some of our topics have been,  Flashlights, Radios, Deportment, Duty Belt, Situational Awareness and, Tactical Security Vests. This time around, we will dive into an essential life-saving tool when it comes to opioid overdoses: Naloxone.
What is Naloxone?
Naloxone hydrochloride is an opioid antagonist. It targets the same receptors that the opioids bind with to produce the effects of lessening pain and the additional symptoms seen in overdose situations. The naloxone will bind with greater affinity to those receptors and essentially "bump" the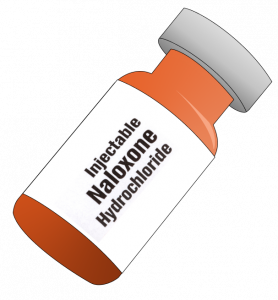 opioids off. As a result, it can rapidly reverse the effects of opioid intoxication and ultimately reverse respiratory depression and unresponsiveness. Naloxone is available over the counter in either injectable or nasal spray form. Many of our Security Officers are trained on how to use both.
Now that we've got that covered, let's talk a bit more about what an opioid overdose entails.
Opioid Overdose
Opioids are a class of drugs that affect the opioid receptors in the brain and produce a morphine-like effect. Frequently prescribed for pain relief, they can also suppress diarrhea and coughs.
Common examples of opioids include morphine, hydrocodone, oxycodone, codeine, and fentanyl. These drugs are marketed under names such as Vicodin®, OxyContin® and Percocet®.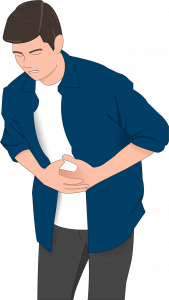 Side effects, which are magnified when too much of the drug is taken, include:
Nausea
Constipation
Respiratory depression
Sedation
Euphoria
Opioids are a common drug of abuse among recreational users due to their euphoric side effects.
At Paladin, we invest in our Security Officers, equipping them with the best-in-class training and knowledge so they can respond to these kinds of situations in the most professional and responsible way. Dealing with opioid overdoses might be a common task in a Security Officer's career. So how do we know if someone is suffering from an overdose? Here are some key signs and symptoms that can help us recognize one.
Signs and Symptoms of a Suspected Opioid Overdose
An opioid overdose will display some or all of the following signs and symptoms:
A scene survey or history of the incident indicating potential drug use
Excessive drowsiness or loss of consciousness
Slow or absent breathing
Cool, sweaty skin that is pale or bluish (cyanosis)
Gurgling or snoring sounds
Constricted pupils ("pinpoint pupils")
Recognizing an overdose is one thing, but how do trained security professionals act and respond when they witness one? These are some of the first aid steps involving naloxone and the SAVE ME protocol. For more safety tips, be sure to read our First Aid Refresher mini-series.
"SAVE ME" First-Aid Steps and Naloxone Use.
First aid for an opioid overdose is a combination of rescue breathing and administration of naloxone (if trained and available). Rescue breathing is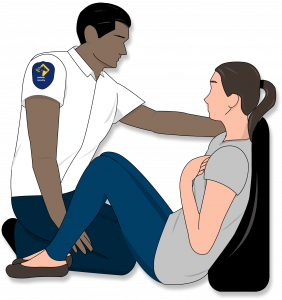 the same as breaths delivered during CPR, except without chest compressions. Deliver one breath every 5 seconds, ensuring the chest rises.
If you suspect the casualty is having an overdose, follow these first-aid steps:
- Perform a scene survey. Make sure the area is safe for you to be in - be aware of risks from people in the area as well as drug paraphernalia.
- Use SAVE ME to remember the steps:
S - Stimulate. Shake, shout, and activate Emergency Medical Services (EMS)
A - Airway. Open the airway
V - Ventilate. Deliver one breath every 5 seconds, ensuring the chest rises
E - Evaluate. Are these steps helping?
M - Medication. If available and trained on its application, prepare and deliver a dose of naloxone.
E - Evaluate. Did the naloxone help? You should see improvement within 2-3 minutes.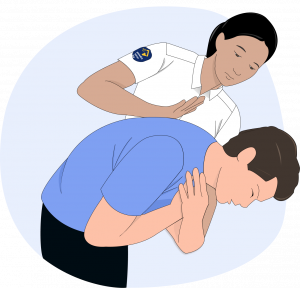 If a person is not breathing, begin CPR. Rescue breaths are delivered to assist a casualty having an overdose if they are breathing on their own, but at a lower rate.
Check local protocols if naloxone is delivered before or after rescue breaths/CPR started.
When possible, have another rescuer perform rescue breaths while you prepare and deliver a dose of naloxone. If there is no improvement after two to three minutes, deliver a second dose of naloxone.
Caution: naloxone reverses the effects of an opioid overdose, which may cause the casualty to become aggressive or combative; or cause a seizure, vomiting, and a fast heart rate. Ensure your safety and be prepared to assist with these other conditions if they happen.
Naloxone FAQ - Frequently Asked Questions
What is the difference between Narcan® and Naloxone?
They are the same thing. Narcan is a trading name for naloxone (like Advil vs. ibuprofen)
Which is better, the spray or the injection?
Both are effective in dealing with a suspected opioid overdose. Speak with your pharmacist for more information.
What happens if naloxone is given when it is not an opioid overdose?
Nothing. Naloxone, similar to epinephrine, will not adversely affect someone who does not need it.
Note: Every medication has the potential to cause an adverse reaction to it. If there is any suspicion of overdose, use naloxone. However, do not use it for things not intended (i.e. heart attacks).
Is a single dose of naloxone all that is required? Does the MFR need to give both doses?
Naloxone is very effective at reversing the signs and symptoms of acute opioid intoxication/overdose but often has a much shorter duration of action compared to the opioids that person may have taken. That means a patient may once again suffer the effects of an overdose as the naloxone wears off. In some cases, the type of opioid taken, or the amount of opioid taken, may require multiple doses of naloxone to reverse the symptoms. In all cases of treatment of opioid overdose with Naloxone, Emergency Medical Services must be activated to evaluate the patient and guide ongoing treatment decisions, like transport to the hospital. Our directive allows for the medical first responder to treat the patient with more than one dose based on the patient's response to the initial dose – if they respond after the first dose (either becoming more awake and/or improved respiratory rate/ventilation), then the Medical First Responder (MFR) does not need to give the second dose automatically.
What would happen if a patient got a dose of naloxone but hasn't taken an opioid?
Nothing will happen. There are no known adverse effects of someone receiving a dose of naloxone if they have not taken an opioid.
---
Paladin has earned a national reputation as the leading training organization within the security industry. Our company-paid training goes beyond current industry standards, ensuring that our employees are ready to perform with the tools and confidence they need to be successful. Our Officers can take advantage of specialized training for their specific site, vertical, or sharpen their skills towards meeting a career goal in protection services. Be sure to listen to episode 5 of The Difference Makers podcast to learn more about why Paladin's training is so unique. For more Safety Tips around the security industry, make sure to read these helpful articles!
If you are interested in starting a meaningful career in security and making a difference in your community, check out our careers page for all our opportunities within Paladin. We would love to see you grow with The Paladin Family.
Reader Interactions