The most effective way to keep a community safe is if everyone looks after one another and cares for the well-being of those around them. By working together and knowing what to look for and what to do with the information we receive, we can make a difference, ensuring safety and security for all of us. That is why it is a good idea to talk about the "If You See Something, Say Something" awareness campaign hosted by the Canadian Association of Chiefs of Police (CACP). The campaign aims to raise awareness of suspicious activity that may be a threat and highlight the importance of reporting suspicious activity to law enforcement or security officials.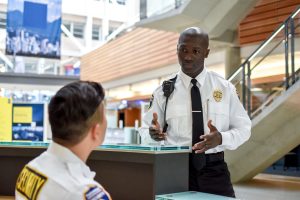 As the leading training organization within the security industry, Paladin is committed to providing training to our Security Officers and clients to identify situations that might put people and the community at risk. Be sure to listen to Episode 5 of The Difference Makers with Paladin's National Training and Development Manager Jason Magallanes for more about what makes Paladin's training unique and why continuous education and training are so vital. We take the time to go above and beyond because we know that our actions have an impact. Our mission is to make the world a safer and friendlier place, so here are a few stories of how our employees became security superstars by looking for potential risk factors or opportunities to prevent incidents:
Jesse Kennedy, Nanaimo
Jesse works at a local shopping centre, and some of the staff would often see a group of youth in the food court making comments about them and generally making them feel uncomfortable. One of the cleaners, who has a slight cognitive disability, was hurt by one of the teen's actions and words. The food court staff also felt uncomfortable at the bus stop, as the youth were often out there as well. When all of this was reported, Jesse did an excellent job of making the staff feel safe and protected by having the group leave the area. He also provided a safety walk to the bus stop for those who remained uncomfortable and waited with them until they safely boarded the bus.
Jesse's story is a great example of seeing something and saying something. The staff told Jessie about the situation, and with that, he was able to take action in order to keep everyone safe, potentially preventing a more serious matter involving the group.
Recognizing our Officers
Outstanding actions should always be rewarded, and at Paladin, we take pride in the recognition of our Security Officers. The Canadian Security Lifesavers Award is a prestigious honour bestowed on security professionals who make a difference in our everyday lives. Nikolai Peterson is a notable case worthy of this award, and here is his story:
When Nikolai was conducting a safety patrol, he found a woman slumped over under a set of stairs. She had pale skin, blue lips, and was not breathing. He tried to wake her up, but she was not responding at all. He immediately called 911, laid her flat on the ground, and started CPR. He also noticed a man nearby; he told him to go to the gate and flag down the emergency crew as soon as possible. Five minutes later, the fire department arrived and assisted Nikolai in keeping everything under control. Only a few minutes later, an ambulance arrived with the necessary equipment, and the team successfully woke up the woman by administering Narcan.
In critical situations like this one, it is imperative to quickly assess the situation and communicate it to the right people at the right moment, just like Nikolai did. If he had not called 911 or told the nearby man to go to the gate to assist the emergency crew, this story might have ended quite differently. That is what The Paladin Difference truly means!
Suspicious Activity
Identifying and reporting suspicious events helps law enforcement and security teams keep Canadians safe. It is important for frontline employees and the public to report anything they consider suspicious. Security Officers are trained to observe suspicious behaviours as they are familiar with their surroundings and know when something stands out in their daily routine.
Here are a few pointers that might help you identify suspicious or crime-related activity that Canadians can be on the look-out for:
Someone showing an unusual interest in or taking pictures/video of people, buildings, security features, or surrounding areas
Someone collecting materials such as cell phones, toxic substances, and weapons
Unauthorized people getting into a restricted area, system or protected site.
Damaging, manipulating, or breaking part of a facility, infrastructure, or secured site
Someone making or communicating a threat to harm or damage a facility or establishment
Unattended bags, or packages
Remember, early reporting to security or law enforcement is key for a timely response.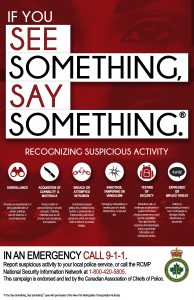 Reporting Suspicious Activity
If something seems wrong, notify security or law enforcement as soon as possible. If you have any doubts or would like to report a suspicious incident, please contact your local security service, or call the RCMP National Security Information Network at 1-800-420-5805.
Describe specifically what you observed, including: who or what you saw; when you saw it; where it occurred; and why it is suspicious.
If there is an emergency, call 9-1-1.
Be the Eyes, Ears, and Voice of Security and Public Safety
Being a Security Officer can be a meaningful and rewarding experience, after all, you are contributing to making the world a safer place. It can also open a lot of doors, even if you want to go into law enforcement. A job in security can give you all the experience and skills you need to land a job in Policing, RCMP, CBSA, Corrections, and Border Services. Click here for some of our Paladin to law enforcement success stories.
Did this article get you interested in starting your career in security? Check out our careers page and read more about how to become a Security Guard here.
Reader Interactions