As the weather grows colder, our Fort McMurray branch is also welcoming a new season of change!
Since 2005, the Fort McMurray branch has provided quality security services to a diverse clientele, primarily in the oil and gas market. With over 250 Security Officers now working out of this branch, we also provide support to other northern branches in Alberta and Saskatchewan, including Grande Prairie and Lloydminster. Each year, our security services in Fort McMurray grow. As a result, our Paladin Family is growing as well!
To meet the ongoing space requirements to match their growth, our Fort McMurray branch recently moved into new space. The larger office provides us with the opportunity to house both Paladin Security and Paladin Technologies under the same roof. Therefore, it allows us to provide our clients with a full range of security services.
Paladin Fort McMurray Location
As of November 1, 2019, our Fort McMurray branch is located at:
10-431 MacKenzie Boulevard, Fort McMurray, AB, T9H 4C5

New Office Space
Stepping into the new office, visitors will instantly recognize the distinctive rich blue and vibrant yellow colours of Paladin Security. In fact, the Fort McMurray office team did all the painting, repairs, and moving themselves!
Before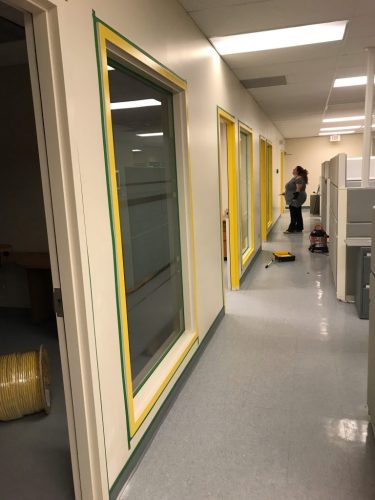 After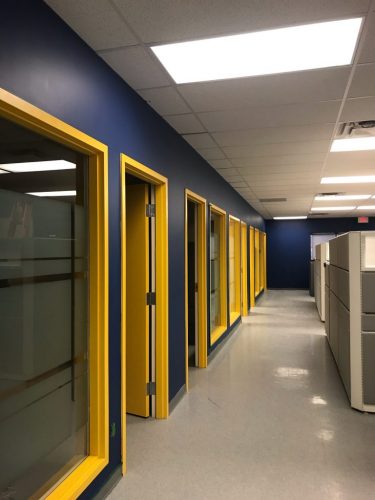 "The Fort McMurray team saw the value in completing renovations in-house, in order create a Paladin-specific space. I am very proud of the team's accomplishment with this project. They have shown their incredible dedication to the firm again, as they always do."
- Matthew Garcin, Director
The new space will also assist our ongoing growth in Fort McMurray by providing:
More organized parking spaces
A structured layout that provides additional offices
Extra work spaces to suit the branch's business needs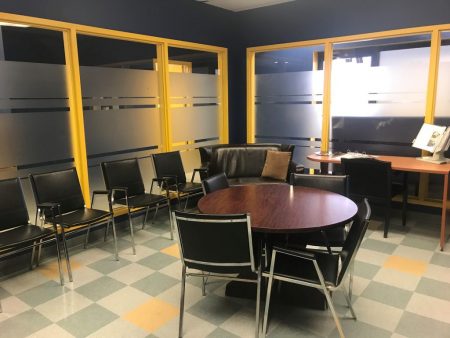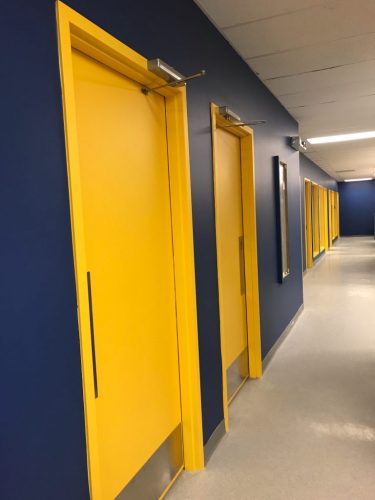 Our team in Fort McMurray works hard to showcase the Paladin Difference. That is to say, they will continue to do this in their new office by offering:
A variety of security services for various industries, including Healthcare, Post Secondary, Industrial, and Mobile Security.
Community Involvement
In addition to the new office location, our Fort McMurray branch is also getting involved with local community initiatives.
On November 2, 2019, we took part in the annual sponsorship of the Keyano College Foundation Gala. As a Diamond Sponsor, the Keyano Gala is our largest sponsored event in the region each year. Not only did our Officers provide coverage, but our Fort McMurray office staff also volunteered their time for the event. This year was extra special as the event "... raised more than $200,000, an increase of $55,000 from last year."
This past May, the Fort McMurray branch also supported The Wood Buffalo Food Bank Association by creating a campaign to collect non-perishable food items. Our team successfully gathered 422lbs of food, which went on to feed multiple families. Click here to read our article on this initiative.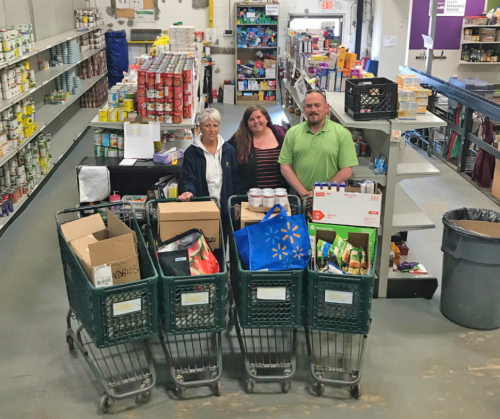 Security Guard Career in Fort McMurray
Are you interested in joining Paladin Security in Fort McMurray? Discover security guard jobs and office positions here.
Learn more about Paladin's Fort McMurray Branch or Find a Location near you.
Reader Interactions