Deciding what to cook for dinner is always a challenge, but have you ever asked yourself:
Can I afford to eat tonight?
Recently, our Fort McMurray Branch discussed ways of giving back to their local community. It was not until they encountered a social media post, that their initiative was established.
We came across a photo of The Wood Buffalo Food Bank Association displaying shelves that were more empty than usual.

- Matthew Garcin, Director at Paladin Security
The Fort McMurray team took this as a sign and began researching the shortage of food in their community. They were surprised to discover how the usage of The Wood Buffalo Food Bank Association (WBFB) was rising each year, while the number of donations were declining. Identifying this problem provided our team with an opportunity to go above and beyond.
Recognizing the incredible services that the WBFB provides to those in need, our Fort McMurray Branch quickly put a plan into motion. To support the Food Bank, the team decided to:
Donate non-perishable food items
Organize a community bottle drive
The branch also worked with our marketing team to design a campaign flyer, which captured the goal of their campaign and promoted the WBFB's services.
After weeks of preparation and executing plans, the campaign successful collected enough non-perishable food items to feed multiple families! On May 29, the team delivered the items to the WBFB and were greeted by many thankful volunteers and workers.
Shortly after delivering the items, the WBFB informed our team that they donated a total of 422lbs! A few of the donations include:
Baby Formula
Dry / Instant Pasta
Baking Supplies
Canned Soup, Fruit, and Vegetables
Pancake Ingredients
Matthew Garcin also comments:
We truly believe that being a good partner in the community is crucial for any business operation. The Fort McMurray community is well known for its tremendous generosity in times of need, which makes it such an incredible place to live. Giving back where possible is very important to both Paladin Security and the individual staff who live and work here. We are very excited to say that the first, of what we hope to be many, donation campaigns for the WBFB was a success. We are very much looking forward to our next one!
Thank you to our Fort McMurray Branch for exemplifying the Paladin Difference through your amazing contributions towards the Wood Buffalo Food Bank and surrounding community!
Learn more about Paladin's Fort McMurray Branch or Find a Location near you.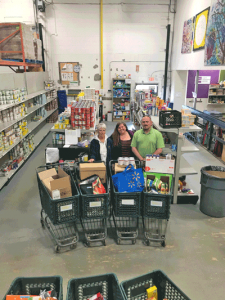 Left to right: Mary Alexander (Occupational Health & Safety), Samantha Levesque (People & Culture Manager), and Matthew Garcin (Director)
-x-
About The Wood Buffalo Food Bank
On December 22, 1983, the Fort McMurray Food Bank (FMFB) was founded as a registered society. To reflect their broader regional perspective, the organization changed their legal name to The Wood Buffalo Food Bank Association (WBFB) in 2012. The WBFB provides both services and programs, which supply the necessary resources and education to ensure food security for all citizens located in the Regional Municipality of Wood Buffalo. Learn more at woodbuffalofoodbank.com