Paladin Security announces new office in Kamloops to support growing client, growing capabilities, and enhanced service offerings.
Paladin Security's History in Kamloops
In 2013, Paladin Security added to our presence in the BC Interior by establishing our operations in Kamloops to service the entire Thomson-Nicola Regional District (TNRD). While we started off small, with a team of 15 Security Officers and one manager at a single site, we were committed to setting down our roots. We were also prepared to build our brand by giving back to the community through:
Investments
Charitable causes
We did this with the hope of making the community of Kamloops a friendlier and safer place.
Over the past 6 years, our Kamloops team has worked hard to bring the Paladin Difference to the community by offering:
Personal and professional growth of our people through advancement opportunities
With the support of our loyal clients and the commitment of our exceptional people, we have grown each and every year. This growth culminated us to look for a new office space, which would allow us to continue to expand in the community we love so much.
Paladin Security's New Kamloops Office
Supporting our local team of nearly 175 Paladinians and dozens of sites, our new office houses our client care team and our administrative staff. It also features a state-of-the-art training centre, which is where we perform Paladin and client specific security and customer service training courses.
In true Paladin Family fashion, we proudly display our trademark logo and rich blue and striking yellow colours throughout our office, which are synonymous with our brand identity.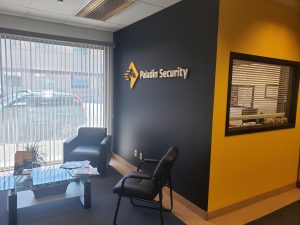 Security Services & Job Opportunities in Kamloops
As our new office is located right in downtown, we are proud of our active membership in the Downtown Neighbourhood Alliance for the Kamloops Business Improvement Association. The Downtown Kamloops Neighbourhood Alliance represents active businesses who strive to maintain both a livable and workable downtown core.
Our membership with the neighbourhood alliance has presented Paladin with two amazing opportunities:
Paladin Security is helping to improve the safety, culture, and community in downtown Kamloops
Our Kamloops Paladin Family is strengthening relationships, both within our team, and within the community of Kamloops
We encourage all of our downtown neighbours to also join and help improve our Downtown!
If you are in the area and require security services, a rewarding career, or if you just want to say hi to our friendly team, please visit us at:
Unit 100 – 124 Seymour Street, Kamloops, BC
Paladin's Services in the Kamloops Region
At our new location in Kamloops, we will continue to provide innovative security guard services and solutions in the following vertical markets and environments: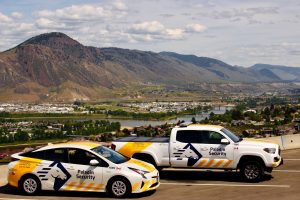 Career Opportunities at Paladin Security
Are you interested in joining Paladin Security in Kamloops? Discover security guard jobs and office positions here.
Reader Interactions