There is a cheer in the air this holiday season in Fort McMurray, AB. Earlier this month, our Paladin Security "elves" were hustling and bustling to get ready for Christmas. But it wasn't toys they were preparing. Instead, it was food bank donations, and boy did they help out in a big way.
The week before Christmas, Paladin's Mobile Team partnered with the Wood Buffalo Food Bank in a COVID-19 friendly way: by providing safe, contactless food donation pick-ups. After hearing the news on the radio, through message boards, and at local schools, 400 pounds of food was graciously donated throughout the week. Our Paladin Security "elves" were hard at work, zig-zagging across the city to collect from all those who wanted to take part, including homes, grocery stores, and elementary schools. It was the contribution from Dickensfield School that stood out for Simon Delafranier, Security Programs Manager for Paladin's Fort McMurray branch.
"The donations that were made and the care that the students showed during this tough time was a great spirit raiser for the school and everyone involved. Seeing that no matter what everyone's financial situation during this pandemic was and the fact that everyone cared to participate makes us feel proud to be part of the community," Delafranier says.
Wood Buffalo Food Bank in Desperate Need
The Wood Buffalo Food Bank was in desperate need of donations prior to the week of pick-ups. While the organization doesn't have specific goals as it never knows how much need there will be, Anna Noble, a spokesperson for the food bank, says they were a bit short at the beginning of the month following another food drive. But that news, combined with Paladin's initiative, brought in an overwhelming amount of support, totaling an impressive 40,918lbs of food and $93,500 in online donations throughout December.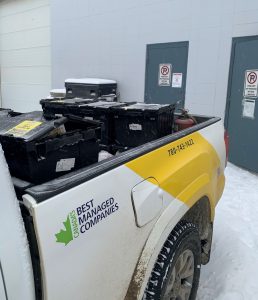 "We are still seeing the community supporting us in any way they can, and it is truly appreciated considering the struggles we are all going through. We never want to put the message out there that there will not be enough food for everyone, as we are not close to that being a reality, and we will ensure everyone is fed this winter,"  Noble says.
Paladin Security Senior Client Service Manager Ali Abrahim agrees, saying the city really showed its pride over the past few weeks.
"We are really proud to know that we have made a difference, to have food on the table for those who are in need during this amazing season and holidays and we can take a moment to smile and think of the difference we have made for some families."
A Snowball of Fun
In typically Fort McMurray fashion, a snowstorm and -24 degree temperatures wreaked havoc across the city on the days when the Paladin team picked up the donations. But they didn't let a little cold and snow stop them; Between the four managing staff members and two mobile officers, they were able to load up eight pick-up trucks full to the brim. The group says while it wasn't much fun at the time, the cause made it so well worth it.
"We truly believe in supporting local and giving back to the communities we serve. This initiative is just a small way for us to try and do our part, to be better as a whole region," says Paladin Security Director Matt Garcin.
No One Goes Hungry
For the Wood Buffalo Food Bank, the donations mean they are one step closer to ensuring no Fort McMurray resident goes hungry this holiday season. Noble says the food bank is averaging 50 new clients each month, people who have never accessed the service before. Usually, it's around 10 new clients a month. She adds, the increase can be attributed to layoffs due to the pandemic, and that Paladin's recent food drive really helped with the need.
"It is incredible to see how much impact our community has on helping us to support their neighbours, and we encourage everyone to volunteer in the warehouse or at a Food Drive just to see how much that community connection is needed," Noble says. "It truly is a humbling life lesson."
Paladin's Four Seasons of Giving
Helping with food bank donations is just one way Paladin Security gives back to the communities we work in. Through Paladin's Four Seasons of Giving, we maintain a year-round commitment from all our branches, coast to coast. Each season marks a different corporate initiative with individual branches supporting a number of local organizations and programs that are of significance to team members. For more information, visit our Four Season of Giving page, and you can also find more on how to donate to the Wood Buffalo Food Bank here.