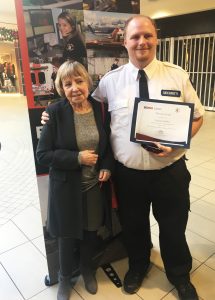 On November 29, 2018, Paladin Security Officer Cameron Hubley was awarded the BC Emergency Health Services (BCHES) Vital Link Award for the actions he took to save a
woman's life earlier in the year.
It was March 9, 2018, Security Officer Hubley was dispatched to assist an elderly woman who had collapsed to the ground at Semiahmoo Shopping Centre. Upon Cameron's arrival, he discovered that the woman was not breathing and had hit the back of her head when she fell. "The moment they gave me the call, I turned around and I could see her on the ground. I knew something was really bad since she wasn't moving. I started sprinting towards her," says Cameron.
While a bystander called 911, Cameron radioed for an AED (Automated External Defibrillator). Without hesitation he cleared her airway and began CPR. Once the AED arrived, Cameron instructed another individual to take over chest compressions while he readied the machine and placed the pads on the patient.
The patient was not responding to CPR, so Cameron administer one shock. At this time the Surrey Fire Department arrived and took over, which led to the patient's pulse being restored. Cameron continued to assist until paramedics could intervene and rush the patient to the hospital where she underwent emergency surgery.
It was later learned that the woman had suffered a heart attack. Fortunately, in large part due to Cameron's quick response and flawless execution of the AED, the woman made a full recovery! For Cameron's heroic efforts, he was nominated by BC Ambulance for the BCEHS Vital Link Award. The award was created to honour the skillful actions of one or more bystanders at a cardiac arrest emergency.
At a ceremony on November 29th, Cameron was presented with the prestigious BCEHS Vital Link Award! "We see some amazing performances from our Officers and Cameron is no exception. I'm incredibly impressed with his skill and composure in such a tense situation. We couldn't have asked for a better outcome and the woman's family will be forever grateful for the care provided to her. Well done, Cameron," says Lindsay Chomechko, Security Programs Manager. According to BCEHS, for every minute that passes without help, a person's chance of surviving cardiac arrest drops by about 10 percent. We are so incredibly proud of Cameron and thank him for his quick actions and truly personifying the Paladin Difference! Congratulations Cameron!