"Every day is different when you're a security officer" is a saying you will often hear in the security industry. In fact, this phrase perfectly sums up why sound judgement and courage are highly important qualities to have in a frontline position. One day you might discover a small leak during an inspection and the next day you might answer a call to save a life.
Last summer, Christian Reiser and LeRoy Anderson received this very call.
Security Officers Answer Call to Save Patient's Life
On July 18, 2019, Paladin Security Officer Christian Reiser and Shift Lead LeRoy Anderson stepped into the Janeway Children's Health and Rehabilitation Centre as they always do. Prepared to quickly act on any minor and major events that come their way.
Shortly after their shift started, they received a call that a young patient had fled the hospital and was threating to jump off a parking lot railing onto the pavement below. This nearly 20-foot fall would not only cause serious injury but potential death, so Christian and LeRoy needed to act quickly.
Using Sound Judgement
When Christian and LeRoy arrived on scene, the patient was making verbal threats that they would jump off the twenty-foot high parking lot railing. LeRoy acted appropriately by using his verbal de-escalation skills to calmly approach the patient and, in a reassuring tone, urge them not to jump. However, the patient ignored the officer's assistance and proceeded to climb the railing even higher.
By using sound judgement, LeRoy determined that physical intervention would be required in order to protect the patient from harming themselves. Leroy held onto the patient's arm and confidently told them he would not let them jump. As the patient tried to break free, Christian stepped in and caught the patient's other arm. The quick actions of these officers saved the patient's life.
Embodying Courage
It takes a lot of courage and understanding to successfully intervene in incidents that involve behavioural or mental health patients. However, this did not stop Christian or LeRoy from going above and beyond their call of duty. In fact, by grabbing a hold of the patient's arms, the officers placed themselves at risk of falling over the side of the railing. Thankfully, the two of them were able to safely assist the patient off the ledge and escort them back to the Hospital Unit.
Both Christian and LeRoy did not hesitate to put themselves into harms way in order to ensure the patient's safety. It was their courageous actions and dedication that likely saved the patient's life, or at least prevented very serious injury. The officers remained with the patient until the Royal Newfoundland Constabulary arrived.
Performing Under Stress and Applying Skills Learned
Incidents that involve suicide-attempts are considered extremely high stress as they can evoke many emotions. Despite this, the officers put their incredible de-escalation skills to use by appearing to act as if they were on a less-consequential call. Not only did this help calm the patient, but it resulted in the best possible outcome. The patient's life was preserved, and their dignity was also protected and respected. Christian and LeRoy's ability to intervene in a calculated and natural manner is incredibly remarkable.
Christian had been working at the Janeway Children's Health and Rehabilitation Centre since 2015, and LeRoy had been there since 2018. As a result, their experience with the site provided them with a deep understanding on how to deal with mental health issues. They also felt prepared and equipped heading into the call they received, since they had a large amount of training courses behind them, including:
Non-Violent Crisis Intervention Training
Dealing with People with Mental Illness Training
Diversity Awareness Training
Working in healthcare security requires 40-120 hours of specific training in addition to the 40-hour Basic Security Officer Training course that all security officers must successfully complete. As a result of their training and preparation, Christian and LeRoy efficiently reacted when they received a call regarding a young patient in danger.
Winning the IAHSS Medal of Merit
The officers went on to received countless recognition for their courageous effort. Paladin's St. John's Branch awarded Christian and LeRoy with the Performance of the Month award, which was published in our Canada-wide monthly newsletter. Additionally, the officers received personal notes from the President of Eastern Health and the Regional Director of Protection Services for Eastern Health Newfoundland and Labrador.
It is evident that the appreciation for their courageous act extends beyond, as Christian and LeRoy have been selected to receive a prestigious award from the International Association for Healthcare Security and Safety (IAHSS), the Medal of Merit.
We would like to congratulate LeRoy Anderson and Christian Reiser for receiving the IAHSS Medal of Merit. According to their website, the "Medal of Merit is presented to an individual who distinguishes himself/herself in the performance of duty by an act of personal fortitude above and beyond the call of duty not taken at the risk of his/her own life."
To learn more about the security officers who are well deserving of this award, read their bio below.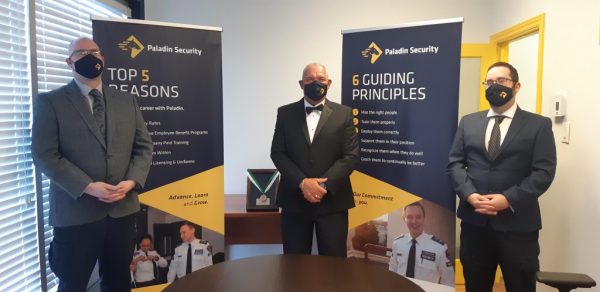 Security Officer Christian Reiser, St. John's Branch Manager Cy Thompson, and Shift Lead LeRoy Anderson
Meet LeRoy Anderson
In June of 2018, LeRoy joined the Paladin Security team as a Security Officer and Second-in-Command to his team lead. He instantly showed a great dedication towards his job, Paladin Security, and the site.
LeRoy was most recently awarded the position of Shift Lead, where he is now responsible to lead a team of four security officers. He is very quick to learn, has incredible problem-solving skills, and is always taking initiative in any situation.
Meet Christian Reiser
In 2006, Christian began his career with Paladin Security in a BC healthcare facility. Just as all officers do, he started out as a Security Officer and moved up through the ranks to become a Site Supervisor. When Paladin opened a St. John's Branch in 2015, Christian started as a Security Officer and eventually became Team Lead. The expertise that Christian has from his previous healthcare experience, has been evident in many situations at his current site.
IAHSS 2020 Awards
To discover other Paladin Family members who received an award at the 2020 IAHSS Annual Conference & Exhibition, check out our blogs below:
- x -
Please join us in congratulating LeRoy and Christian by leaving a comment below!
Reader Interactions