Working in law enforcement is a sought-after career in Canada for many reasons. A career based on protecting the community and helping others, along with ongoing education, a strong pension, job security, and competitive salaries are all perks to becoming a cop. Although being a police officer is a dream of many, only a handful of highly skilled and qualified people will achieve this aspiration.
The biggest obstacle between would-be officers and their vocation of choice is the infamous police academy. On average, 14% of recruits who are accepted won't graduate from the police academy. Therefore, some recruits will attend an academy multiple times before they successfully pass.
The police academy is renowned for being incredibly difficult on multiple levels. If you want to be at the top of your class, you need to:
Requirements For The
Police Academy
Before we dive into the essentials for being successful in your police academy, let's take a step back and cover some key eligibility requirements.
Minimum Education Requirements
Most departments require officer candidates to have at least a high school diploma or GED. Some highly competitive areas also ask for post-secondary education, such as an associate's degree or a minimum number of completed college credits. Often, educational requirements are waived for applicable work experience, such as military service. There's an incentive to put in the time studying or practicing in the field, as many jurisdictions pay higher wages to recruits with education and/or experience.
Non-Educational Preferences
Many departments heavily prefer people with volunteer work, particularly volunteering within the department with which you are applying to work. In lieu of securing a volunteer position within the police department, gain as much experience in roles that deal with similar physical demands and workplace environments. Holding a security guard position is an excellent way to demonstrate your suitable ability and character for preserving community safety.
The Application Process
Most job applications require you to send in a resume and cover letter. If your past experience lines up with the job description, you'll get a call from HR to schedule an interview. Getting hired as a police officer isn't nearly as simple.
Applying to work in law enforcement typically layers on multiple mental, physical, and behavioural tests that screen every candidate thoroughly. A typical application process might include:
Submitting an application
Undergoing a background check
Completing a reading exam
A physical fitness test
A medical assessment
A drug screening, and
A psychological evaluation
All these are just pre-screening to be accepted into the police academy. The application, tests, and screenings can take three to four months to complete. Then there are weeks of the academy to undergo before you're finally a full-fledged officer.
Looking to get into a career in policing? Check out some of our Paladin to Policing stories.
What Is The Police Academy Like?
Once you make it through the application process, the police academy still stands between you and your dream of being a professional officer. Understandably, those interested in a career in law enforcement have a lot of questions about what comes after the application:
How Long Is The Police Academy?
According to the Bureau of Justice Statistics, the average police academy in Canada lasts 21 weeks. Some more intense programs take over six months and require over 1,000 hours of training. The Justice Institute of BC facilitates a 39-week, 3-block training, for example.
Do You Live At The Police Academy?
There's no hard and fast rule for academy housing situations. Depending on the scheduling, you may be overnighting on academy grounds for part of the training, all of it, or not at all. Some academies are held full-time during the week, while others are scheduled on evenings and weekends.
Do You Get Paid To Go To The Police Academy?
Training is demanding. It requires long hours in the classroom and field, plus outside studying. Thankfully, officers typically receive their full starting salary during training. It's also common to receive a raise after successfully completing academy training. If you can make it through, you'll deserve it.
What's Covered In Academy Training?
Local agencies, such as the Commission on Peace Officers Standards and Training, dictate the level of training required to become a police officer in their region. Academy training includes a blend of classroom and practical training. You'll take classes in firearms, first aid, criminal law, emergency vehicle operations, defensive tactics, and investigations. At the same time, you'll learn about department processes for procedures like arrests and reports.
Most programs will include specialized training, based on the location. For example, departments in large metro areas may train on counterterrorism, riot control, and bomb squad. In addition, other programs may focus on community policing, problem-solving, and patrolling.
What Are The Police Academy Exams Like?
During your weeks of training, you're preparing for a series of exams. In most academies, you take around 14 written exams, plus 4 practicals on firearms, defence tactics, driving, and first aid.
These tests are varied and challenging. If you fail them, you fail out of the academy. However, there are rules and tricks to help you prepare for these exams and successfully complete training.
5 Ways To Prepare
For The Police Academy
Once you get through the application process, the real work begins. Here's how to make sure you're as prepared as possible for the academy training and exams:
1. Get Into Shape
Being a police officer requires a high level of physical fitness. It's no surprise that a large portion of police training academies call for strength and cardiovascular endurance. To receive acceptance into the academy, new recruits typically need to meet minimum physical standards. However, the entry requirements are a cake walk when comparing it to the final physical test. The academy expects you to join with great physical fitness and graduate with excellent fitness.
Academy applicants should physically prepare for the police academy with frequent, full-body workouts including running, push-ups, pull-ups, sit-ups, box jumps, deadlifts, squats, and bench press. Example physical requirements for male applicants under age 30 might include:
40 sit-ups in 1 minute
30 push-ups in 1 minute
1.5 mile run in 12 minutes
Once you've made it into the academy, you'll be held to new standards. Physical training requirements for police departments vary greatly by location. For example, Canadian police fitness testing uses a variety of standards including the PARE, POPAT, FITCO, OCPAT, and COPAT fitness standards. Academy attendees can expect to complete physical training multiple times per week, running up to six miles or more in a day.
2. Get Your Mind Right
Police officers are asked to trust their fellow officers with their own lives. In other words, the academy is intentionally designed to weed out any recruits who may not be up for the extremely high-pressure situations that the job often entails.
Throughout the training, instructors aim to make attendees mentally strong by psychologically breaking them down. You can expect military-style yelling, demands of obedience, and the expectation of absolute discipline.
Living up to this level of self-regulation calls for preparation. To be mentally ready for the police academy, adopt habits that strengthen your mind, such as daily visualization exercises. For instance, picture your instructor yelling at you and imagine how you will respond in a calm, disciplined manner. Similarly, training in martial arts is also an effective way to boost both physical and mental fitness prior to the academy.
3. Make New Friends
As the saying goes, misery loves company. To prepare for the difficulty of a police academy, it's helpful to connect with people who've been there before and who'll be there with you. For instance, make a point to join online forums, Facebook groups, or clubs with other police officers and recruits. It's an opportunity to ask questions and receive help from people with experience.
Carry this collaborative spirit into the academy with you. Teamwork will help you through when all else fails. On orientation day, make a point of connecting with people as much as you can. After that, connect with the trainees in your cohort and build a rapport. The more study buddies you have, the more likely you are to graduate. Plus, you'll be relying on each other throughout the academy and beyond.
4. Study The Law
An important part of the police academy is having proficiency in the laws that you are enforcing. However, there are many. Getting a head start on the bookwork will make you a better police officer and will give you time and mental space to focus on the many other areas of your training and testing.
There are tons of ways to pre-study legal coursework. Research online, borrow books from the library or take an online class. In addition, brush up on criminology, criminal law, interrogation, patrol techniques, criminal procedures, and criminal custody.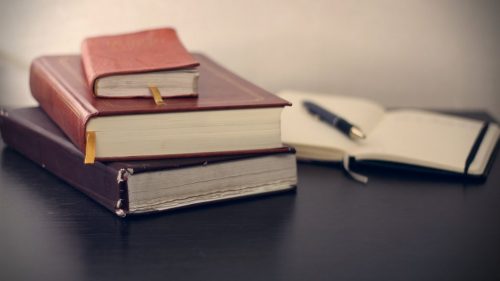 5. Visit The Shooting Range
There's no need to enter the police academy as an expert sharpshooter, but shooting is a skill that will develop over time. Therefore, the more hours you can put in prior to the academy, the better you'll fare.
Get comfortable with common firearms such as 12-gauge shotguns, 9mm handguns, and .40 cal handguns. In addition to spending time at the range, take a basic firearms safety course to familiarize yourself with disciplined firearms handling.
LEARN MORE: The Difference Between a Security Officer and a Police Officer
How To Get Real-Life Experience
For The Police Academy
In conclusion, policing is a challenging career. The long and challenging application process means that a large portion of applicants are not accepted. If you really want to prepare for the police academy, there's nothing like having on-the-job experience.
Training and working as a security guard is an incredible way to gain real-life, transferable skills. Learn more about how working in security can get you the type of experience police recruiters are looking for.
Reader Interactions