Kenny Brothers Manage Hospital's Security Needs
The Western Hospital in Alberton, PEI is Paladin's smallest site in the Health PEI contract, but features a fairly unique staffing situation. Western Hospital is only staffed overnight from 6pm to 6am daily and therefore only requires two full time staff to manage their security needs. The uniqueness of this staffing situation is that the two full time employees happen to be brothers!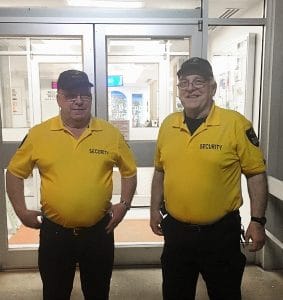 John and Joseph Kenny joined Paladin when the Health PEI contract rolled out in November of 2015, but have been a part of Western Hospital for some time. John was actually a part of the first security contract that was put in place at Western but left when the contract changed hands. Joseph joined the Western security team shortly after the first transition and would eventually team up with brother John when a spot had opened up, forming the dynamic team they have there now.
Working in a small community hospital, John and Joseph were able to adapt the Paladin Difference quite seamlessly as they had already done an amazing job developing an outstanding rapport with visitors, patients, staff and clients. To watch them work is very impressive, everyone who walks through the doors in the main lobby are greeted like family, most of which are on a first name basis with both John and Joseph, often stopping for a quick check in on each other's lives. When you ask the two brothers how they became so familiar with the community, John would tell you that he used to work for the phone company and has been in most people's homes at one point or another. Joseph has a different means of getting to know everyone saying, "Most of them think I'm John!"
It's clear when observing their work that they have fully committed themselves to the utmost customer service and making sure that everyone who arrives on site is met with a smiling, friendly face. John put it quite clearly, "Most people don't love coming to the hospital but when they're met with a welcoming face it can ease their anxieties a little." If ever you are "Up west" in PEI and you stop by Western Hospital, you can be sure you will be greeted with a smiling face and a warm welcome from the Kenny brothers!