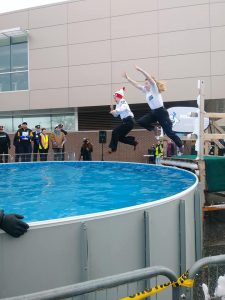 The Polar Plunge in Windsor is the largest fundraiser in Ontario for the Special Olympics.
The event, which is celebrating its fourth year, is organized by the Ontario Law Enforcement Torch Run for Special Olympics, Ontario, a group dedicated to creating sports and athletic opportunities for those with intellectual disability. This is the third year Paladin has participated in support of St. Clair College, the event's sponsor.
Dozens of brave students, Law Enforcement Officers and supporters lined up in freezing temperatures to plunge into a pool full of cold water to help support the effort. Our local representatives included Mobile Supervisor Krisztina Gyurasz, Dispatch Supervisor Danielle Hunter and Security Officer Ryan Newman.
These Paladin representatives were able to raise $300.00 through generous donations.