Shane Wright now a Vice President of Paladin Security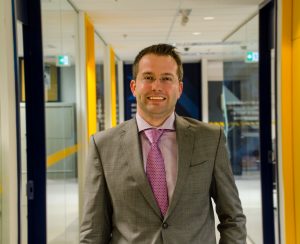 Originally joining Paladin in 2010 as a Healthcare Security Officer working various sites around the Lower Mainland, Shane has since held several positions within our organization, including Field Manager, Client Service Manager and most recently, Branch Manager for Victoria, on his way to becoming Vice President.
Staying true to our culture of promotion from within, Shane is one of the many great examples of Paladin employees who have grown into various leadership roles across the country. Shane's experience within Paladin has provided him with an excellent understanding of our company and the industry, each position serving as a learning experience preparing him to deliver the highest quality support to both our employees and clients alike. Shane recalls,
When I think back to my start in Paladin, I think of all the great people who introduced me to the company and taught me about the different opportunities within the company and the industry at large. Learning the basics of the job is a necessity to being able to successfully connect with everyone involved.

All of these experiences were essential to my ability to gain confidence of my clients when I started to manage a full range of security programs including government institutions, commercial properties, industrial facilities, social event venues and heritage properties.

With time, I took lessons from all of these roles and made the most of an opportunity to lead our Victoria branch. Having been able to develop new business opportunities helped grow this branch from under 100 employees to 300 employees between 2012-2016.

Today, I find myself passing along all of these lessons to a team of several Operations Managers, who are some of the brightest young minds in the security industry. If the knowledge I have developed over the years is able to permeate back down to the ground level of our organization in the field where I, too, started my career, I would consider that to be one of my greatest successes.
Shane's diverse experience in the organization combined with his undeniable passion for providing our employees with an opportunity to grow has given him the necessary skills to lead our organization to a continued growth and expansion. Congratulations, Shane!