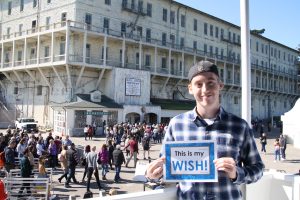 Congratulations to our branches from coast to coast who have collectively raised $10, 242! Together we granted Sean's wish and helped send Sean and his family on a trip of a lifetime.
In October, 2018, our Paladin Family began its coast to coast fundraising for our fall Season of Giving. This is the fourth consecutive year our whole organization has united and successfully fulfilled a child's wish through the Make-A-Wi sh Foundation®.
Sean lives with a medical condition that causes daily headaches, fatigue, joint pain, and blood clots, making it difficult for him to fully enjoy his childhood. Because of his chronic pain, Sean spends a lot of time at home, playing
video games and watching movies. Sean has also done a lot of reading about Alcatraz, so he was absolutely thrilled to have had the opportunity to visit in person.
In late December, 2018, Sean and his mom traveled down south and did "everything there is to do in San Francisco" during their five day visit. They toured Alcatraz, went to a San Jose Sharks NHL game, visited Muir Woods, and spent hours exploring numerous museums and exhibits throughout the city.
Aside from soaking up the unique culture of San Francisco, the highlight of the trip for Sean was visiting Alcatraz. Although he has read a lot about it, Sean says, "seeing it in person was just unbelievable."
Sean "couldn't stop smiling" for the entire trip. His mom said it was the first time in years that the two of them were fully able to enjoy themselves without any medical worries or concerns. Sean felt like royalty throughout his trip. From his limousine ride to the airport and receiving special attention on his first ever flight, every detail was made memorable to Sean and his mom.
THANK YOU to our amazing and generous Paladin family for all of their dedication in helping to grant Sean's wish. We are so proud of everyone on our team who always makes a difference in communities everywhere!