April is Daffodil Month, Spring Season of Giving!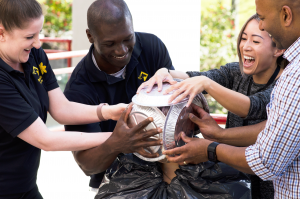 One in two Canadians will be diagnosed with cancer in their lifetime. Cancer affects us all, every Canadian, in every city and across the country, but when cancer hits close to home, community matters.
Our mission at Paladin Security is to make the world a safer and friendlier place. For the last seven years, our Paladin family from coast to coast have come together for April's Daffodil Month to raise funds, awareness, and to make an impact in our local communities everywhere.
This year, we are once again taking up the fight against cancer. Donations collected from this campaign allows the Canadian Cancer Society to fund millions of dollars in world-class research.
Cancer research in Canada, and around the world, progresses towards a future where many cancers will be curable, and others will be managed as chronic diseases like diabetes and asthma. Advances in technology have helped researchers gain more understanding about causes, prevention, treatment, and  improving the quality of life of people living with cancer.
Throughout the month, Paladin's branches will be hosting several fun and unique teambuilding events to get our employees involved in supporting the mission of the Canadian Cancer Society.
There are several ways our amazing and dedicated staff will be supporting the cause. Our branches have brainstormed some creative ideas, which include, Pie in the Face, bake sale, games tournament, a BBQ, raffle draws, and more!
Cancer is something that affects everyone and daffodil month is a time that many of our staff members reflect on how their lives have been impacted by cancer. Sharing our stories has helped Paladin build a community of support and ignite our goal of beating cancer.
COO Don MacAlister says:
I am always amazed at how the Paladin team comes together across the country during Daffodil Month! They show energy, commitment, and creativity to help raise funds for this important cause and have fun while doing so. We can't thank all of you enough, it's truly heartwarming.
The daffodil is resilient – it survives our harsh winters and is the first flower to bloom in the spring, a time of renewal and hope. For those living with cancer the daffodil is a symbol of strength, courage and life. Together, as Paladin Security, we want to make a big difference in the lives of people who have been affected by this terrible disease.
If you or anyone you love is affected by cancer, please visit www.cancer.ca for details on diagnosis, support and more.