Remembrance Day, also known as Poppy Day, is recognized on November 11 as a day to commemorate and honour the veterans who served during the First and Second World Wars. It's also a day when Canadians reflect and remember those who have served or are currently serving their country. On this day, the poppy is a commemoration symbol for the fallen soldiers. It is marked by a two-minute silence at 11:00 AM (the eleventh hour of the eleventh day of the eleventh month) and the wearing of poppies.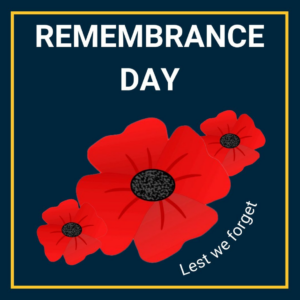 We invite you to wear a poppy on that day to reflect and remember those who gave their lives for the greater good of our country.
For over 45 years, many Paladinians have worked hard to make the world a safer and friendlier place. Some of these selfless individuals' background in public safety reflects a past (or current) military experience. It is hard to put into words our deep-rooted admiration and respect for those who serve to protect, and it is important to understand the several layers of history and perspectives that go into the lives and stories of veterans. Let's take this time to reflect, appreciate those around us, and reach out to any veteran friends, coworkers, or loved ones to learn and understand more about their experiences.
The first value of Paladin's C.A.R.E. culture is to be "Curious" by seeking opportunities to learn and grow. Feel free to take this opportunity to meet and learn from some of the Paladin veterans who are still making a difference in our country and keeping our communities safe.
Thank you for your service!

Words from Veteran Donald Richard
"I joined the military at age 17 and started my career as a military policeman. I continued until I turned 55, retiring in May 2011. I had a great career and enjoyed it immensely! I was deployed around the world and here in Canada on many operations and taskings. I worked with some great people, and I also was very fortunate to gain many educational courses. I was classified as an expert in counterintelligence. I was also Detachment Commander at several locations where I oversaw over 50 people. Because of my extensive experience and multiple deployments, I was able to very easily move into security."
The Paladin Family offers many career opportunities in security that can be an excellent option for pre- or post-retirement Canadian veterans looking to put their public safety knowledge and expertise to work, just like Don.
"I've mentored and trained many police officers over the years, and I am also recognized as a college instructor in Ontario. Although I only work part-time at Paladin, which is very good for me because of my retired status from the forces, I am proud to have helped my team in any way I can. You can say that I'm the man with all the experience who helps mentor and guide others."
There are many benefits to working in the security industry as a veteran. You'll be able to enjoy a rewarding career in an exceptional team-driven environment, job stability, flexible employee-driven schedules, comprehensive benefits, and compensation. Learn more about the recent hourly wage increase for BC healthcare security positions.
Don's Advice to Young Security Professionals
"I would say be fully aware of your surroundings and take educational courses to gain insight into the world of security. Listen to those with experience to understand what is required to do the job."
Don has also been a keynote speaker for The Memory Project. Over the last 17 years, he has been giving lectures to College, University, High School, and Elementary students on what it's like to be a member of the Canadian Forces.
If you are a veteran or are currently in your retirement years and want to continue to positively impact your community, then Paladin Security is the right place for you. Check out our careers page or A Secure Job in Security and find the role that works for you.
Here is a guide on how to become a Security Officer and a downloadable template for writing the ideal Security Guard resume.
Be sure to listen to The Difference Makers podcast and read our blog to learn more about us and the exciting world of security.