Security Guard Sheetal Verma Sparks Change at Etobicoke General Hospital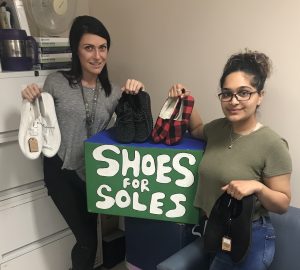 As part of the security team at Etobicoke General Hospital (EGH), Security Guard Sheetal Verma has been working for Paladin for about two years, drawn by a desire to work in a healthcare organization and recognizing hospital security as a great way to contribute. She says, "Joining Paladin was one of my greatest life decisions and I have gained a lot of experience working alongside amazing individuals I look up to as my role models."
Sheetal is passionate about healthcare security and loves coming to work each day. "It's such a great feeling working with various healthcare professionals and working towards the same goal which is providing excellent service to all patients/clients."
Sheetal has also become a recipient of the Paladin's Finest Program for the integrity, leadership, service and care she demonstrated in launching 'Shoes for Soles', an initiative which collects shoes for discharged patients without any footwear.
Throughout her shifts at EGH and also at Brampton Civic Hospital (BCH), Sheetal would often notice patients complaining about not having footwear. Either the patients were brought into the hospital without their shoes, or their shoes were misplaced at the hospital.
She explains, "At EGH, our team (including security, nurses, and social workers) would do their best to ensure patients get discharged in the safest manner. To accommodate those without footwear, we would use shoes from the lost and found collection. I found this to be very unhygienic and unsafe as some shoes would be in terrible condition. One day at work this past June, we were having trouble finding footwear for a patient, I got frustrated and started questioning why we don't have required items for patients. We have socks, hygiene products, but why not shoes? This is when I got the idea to start the 'Shoes for Soles' campaign because every patient deserves to be discharged with dignity and safety."
'Shoes for Soles' isn't Sheetal's first compassionate initiative. In the winter of 2017 she began a campaign called 'Hope for Homelessness', where she collected funds and items for those struggling on the streets of Toronto. She explains, "I'm always trying to find new ways to help those in our community that need help, and personally, I believe that having a strong community begins with strong support."
 Sheetal insists that she can't take all of the recognition for the success of 'Shoes for Soles', and she also gives credit to the support of a crisis worker at EGH, Melissa Petriglia, who approved of the idea and encouraged her to start a GoFundMe page, and to her coworkers who helped spread the message on social media and allowed her to put up posters in the security office.
The initiative received overwhelming support from the local community. Many of Sheetal's peers and family members supported the campaign through donations on the GoFundMe page and by donating shoes. A local mental health support centre (Punjabi Center Health Services) also supported the cause, with the CEO, Baldev Mutta, donating and sharing the GoFundMe link.
Sheetal believes that this campaign demonstrates the importance of individuals taking initiative to support causes they believe in, rather than waiting for someone else to fix issues. "During my campaign I heard people make comments such as 'this is the government's job', 'the hospital should be taking care of this', 'these patients should be more responsible', and 'you're just wasting your time'. I highly disagree with all these opinions. As a Health Management student at York University, I understand upper management in the healthcare sector have many priorities to manage and many demands for funding."
She continues, "I strongly believe there are some issues we as a community can attend to, and as individuals we can take the initiative to make a positive difference. I hope for this campaign to inspire others to take action and be that positive difference. The change starts with us."
Thank you Sheetal for your hard work, dedication and compassion. We are proud to have you as part of the Paladin Family and know you will continue to make a huge difference wherever your career in healthcare takes you!