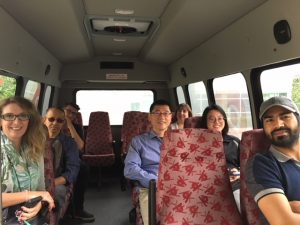 This summer, our Paladin family from coast to coast partnered with the Canadian Blood Services and took time to visit local centers to donate blood for various causes such as people with cancer, in need of blood transfusions, or were in an accident. The donations our team gave for this cause will go a long way to help hundreds of people nationwide.
We have some of the most generous individuals on our team. There are donors who have given blood more than five times in just the last few years. Blood, plasma and platelets donations are always needed and can make a drastic impact on several peoples' lives. Although this summer season of giving encouraged a single donation, a few of our staff already pledged to donate again after eight weeks, the next time they are eligible to donate.
"[We] thank your staff for your support and dedication to the blood program in Canada. Their generosity means life for the hundreds of thousands of Canadians who need blood. Heroes come in all sizes and types," comments a representative of the Canadian Blood Services.
While one unit of blood may sound like a small donation, it can make a big difference in peoples' lives. It only takes five units of blood to help someone who undertook open heart surgery or is going through cancer treatments. Besides blood transfusions, these donations can also be used to conduct research to help scientists find newer and faster ways to treat diseases as well as provide more information on blood transfusion and transplant medicine.
If you would like to continue donating blood or platelets, more information can be found on the Canadian Blood Services website.
Our reason for being at Paladin Security is to make the world a safer and friendlier place and every season, our team continuously strives to go above and beyond to make a difference in our local communities.