Paladin Security Officer, Anthony McDonald is the 2017 recipient of the prestigious ASIS Pacific Chapter's Security Officer of the Year Award, recognized for his actions which helped to save the life of a suicidal woman.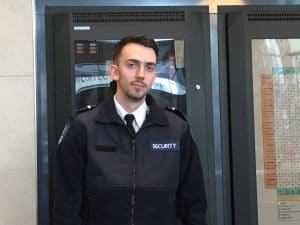 Every year, the ASIS Pacific Chapter selects one outstanding Security Officer within the region for excellence in their duties and their contribution to the industry. The award was created to recognize security professionals who demonstrate outstanding merit or bravery. Being recognized, let alone winning this award, is no small feat as professionals from across the province get nominated for this very prestigious award.
During a routine patrol through a downtown Vancouver shopping centre on Friday, November 24th, Security Officer Anthony McDonald was flagged down by a distressed contractor who reported a commotion happening inside the food court's women's washroom. Without any hesitation, Anthony sprang into action and entered the washroom only to find a female in the midst of committing suicide. As he witnessed copious amounts of blood on the floor, Anthony drew from his training, experience and instincts.
As the site's OFA 2 attendant, Anthony was first on scene explaining,
I didn't know if she had a weapon because it didn't click in, but I knew that if I didn't do anything, she would die. When you're put in a situation like that, you just have to do what you have to do. The first thing that came to mind was to stop her from bleeding out. She was initially belligerent, so I tried again and I was able to subdue her.
Anthony held pressure on the young female's wound with one hand and radioed for back-up with the other. The team remained with her and continued to provide first aid until the Paramedics arrived to take her to the hospital.
Over his two years as part of the Paladin team, Anthony has become a key member of our Vancouver security team. Vancouver's Director of Major Accounts, Frank Naso comments,
He is part of a dynamic team that frequently handles highly demanding interactions with the public, including medical calls and the challenging situations that are prevalent with downtown properties. Anthony did what he could until the paramedics arrived and he ultimately helped save the female's life. We're very proud that he is 2017's recipient of the Security Officer of the Year award.
Congratulations, Anthony. We are very proud of this achievement!