Paladin St. John's is very proud to have witnessed one of its own Officers become a Canadian Citizen. Muhammad Shahbaz became a Canadian Citizen on October 25, 2017 with his Paladin Family by his side.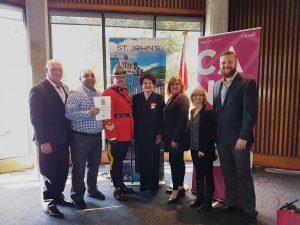 Muhammad exemplifies the Paladin code of ethics and will officially embrace all that it means to be a Canadian. He accepts the responsibilities and the obligations of his role, as a Paladin Officer: protecting life and property, preventing loss and crime against his employer's business or other organizations to which he is assigned, upholding the law and respecting the constitutional rights of all persons.
Muhammad wanted his Paladin Family to be there for this extremely special day and we were truly honoured to share this monumental day with him. He has been with Paladin St. John's since our inception on January 1, 2015 and is currently at St. Patrick's Mercy Home as an integral part of their team. Paladin is more than a job and the people that we work with are more than just colleagues. They're family, which make moments like Muhammed's Citizenship Ceremony very special. We take pride in developing our people and helping them create better versions of themselves and sharing personal moments like these.