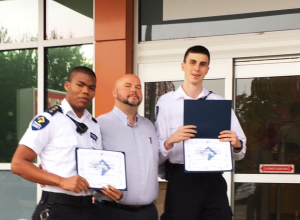 Two of Paladin's officers stationed in Kelowna General Hospital were instrumental in the handling of a bag theft  that occurred recently. A volunteer at the hospital reported the incident after she noticed her bag was missing from her desk.
Officer Logan Robichaud and Supervisor Taj Smith searched the exterior to no avail, before conducting a surveillance investigation, when they discovered footage of a patient taking the bag from the volunteer's desk. They proceeded to confront the patient who admitted he had taken the bag, and returned it shortly after, along with her wallet which he also admitted to taking. Robichaud and Smith returned the bag and wallet to the volunteer and her father.
The parents of the volunteer wish to express their gratitude to Robichaud and Smith, for their work to recover the bag and their "caring and compassionate" follow-up that was provided post-incident. They were concerned their daughter would be hesitant to enter the medical field as a result of the incident, however due to Paladin's response and care, she is eager to continue her career aspirations after graduation.