At Paladin Security, we believe the best way to create a strong team is through employee development and our promotion-from-within philosophy. Through our development programs, an employee can plot their own career path within our organization, lending stability to our workforce. In our bi-weekly feature, Paladin Then & Now, we're showcasing some of the amazing and inspirational stories of our employees rising through the ranks. This week, we're featuring Ali Abrahim, Senior Client Service Manager. Ali chatted with Paladin Security Communications Specialist Christina Heydanus about his career in security. 
So, Ali, what title did you start with, and how many have you had since? 
I started with Paladin back in October 2012 as a security officer at an Oil & gas site. In April/May 2013, I filled in for an acting team lead position until December of that year when I was then promoted as the team lead for one of the other teams out there. About a year after that, I was promoted to the site supervisor position.  In August 2016, I then was offered the town client service manager position. The promotions kept coming, and in November 2018, I was made Senior Client Service Manager for all Fort McMurray operations.  
Wow, quite the journey you've had! When you first started, were you aware of Paladin's promote-from-within philosophy? 
Funny story actually, during my hiring interview, HR had asked me where I see myself in five years. To keep the interviewer interested, I said, "I would like to become the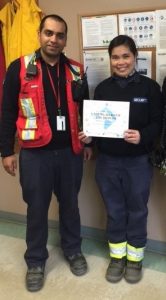 manager".  She smiled and said that this is very possible due to the promote-from-within program.  At that point, I started to look into it and do my best to make it happen for me. 
Since you started off as an officer, what was the transition like from field to office? 
It was a bit different at the start.  I was used to working 12-hour shift work, doing 14/14 or 7/7 rotations. The office environment changed that to working Monday to Friday. It was a little difficult to adjust to that schedule for the first little while. 
I can imagine! When and why did you decide you wanted to move up within the company?  
I really decided that I wanted to move up within the company after becoming the Team Lead on site.  This really opened my eyes and made me look at security as a career and not just a job. I had a lot of help/mentoring from a previous supervisor and my current director Matt Garcin.  
Did you have any extra education, and if so, did it help you transition to your current role? 
After high school, I completed a three and a half year Electrical Engineering Technologist program in Ontario. I started with Paladin as my first job in Oil & Gas sector after that, and from there, I took additional training regarding security and management which really helped me with my current role. 
What is your favourite thing about working for Paladin?  
One of my favorite things about working for Paladin is "The Paladin Family". Our office staff is really like a family: we work together, laugh together, socialize with each other, and care for each other. 
Sounds like a fun place to be! What piece of advice would you give to someone looking to move up within the company? 
Paladin really supports and pushes its promote-from-within program. Work hard, be honest, take all the training provided, and maintain your education. You will get there! 
Great advice, thanks Ali! 
Reader Interactions