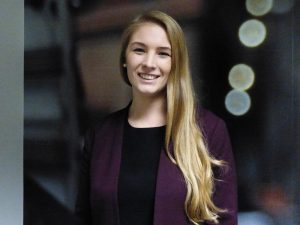 How long have you been with Paladin? Please list the positions you've held.
I have been with Paladin for about three years. I have been a front line Security Officer, Communications Officer, Supervisor, Second in Command Officer and Acting Site Manager at BCIT in Vancouver. I'm now a Client Service Manager for General Duty sites in Grande Prairie.
What initially motivated you to join the security industry?
After completing my Criminology degree, I was unsure of which path to take to help start my career. I saw that Paladin was hiring and thought it would be a great place to start.
Which unique traits do you believe women bring to security?
Women bring a different view and perspective to security, in the sense that we approach situations differently. Sometimes the presence of a female will deescalate a situation right off the bat. We also have a different eye when it comes to details.
You recently participated in Paladin's Junior Management Training Program. Please describe the experience and what you learned.
The Junior Management Training Program was an incredible experience. I was able to take information from each presentation and am excited to bring that back to my branch to teach and influence others. I was able to connect with other Client Service Managers and other people in different positions with similar portfolios and talk about what we are doing and what we can do better.
What's the best piece of advice that you've received that you would pass on to women following in your footsteps?
Work hard, learn lots and share your knowledge.