How long have you worked in security & what drew you into the industry?
I started in security three years ago originally with Concord Security and became officially with Paladin last March. Originally, I joined security as a back-up plan from doing manual labor through tree services and I wanted to take a break. So I applied and got hired within a week!
What unique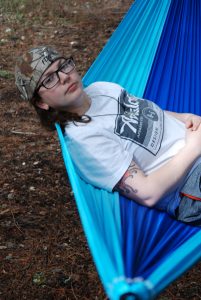 traits do you feel women bring to security?
I feel that security has always been a male-dominated field. I'm glad that recently, women are joining security more and going against the stereotype that this industry is only fostered by men. For the most part, women are helpers, we're here to help people and de-escalate situations just as well as anybody. Women bring such a good aspect to the security field; we're not the typical brute, aggressive individuals but we have a special way of dealing with different situations.
Why are women in leadership so important for the growth of the industry?
I think it's something that you don't see very often. It's exciting to see that women are stepping up to the plate and taking more responsibility. Because we're so focused on quality, we deliver different results. It's also quite unfortunate that women don't get as much recognition for a lot of things, so having more of us in the industry is a good stepping stone for more women to join.
How do you maintain a healthy work-life balance?
On my days off, I do a lot of outdoor activities. I'm an avid outdoorsman!
What's the best piece of advice that you've been given and you'd like to pass on to women following in your footsteps?
When I first started in the industry, it's nothing like I thought it would be and it's actually very diverse. I would say go in with a clear mind and don't stick to the stereotype. Walk in with a blank slate, prove yourself and find your niche in the role!
At first, I thought security was a lot more on being assertive and being a stern authority figure. But it turns out, it's a very customer-oriented role and it's about being passionate about what you do.
What does the "Paladin Difference" mean to you?
It's professional and family-oriented.
It means that we're family. The Paladin Difference is not about employers and employees, but it's been about how we can work together to be a better company and having a great standpoint in the world. We're definitely not just an ordinary group of Security Officers, we're striving to be the best in everything that we do.