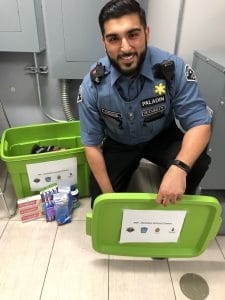 A Paladin Square One Shopping Centre Supervisor, Spencer Henry, in Peel, Ontario has started a project in collaboration with the regional Police Service and the Good Shepard Ministries to gather new clothing for donation to homeless veterans.
"I've held a position as an Auxiliary Constable with the Peel Regional Police for the past four years," explains Spencer. "Through communications with Peel Police co-workers and and Officers I was made aware of the opportunity to donate new men's clothing for Homeless Veterans. When I saw this, I immediately thought it would be a great program for the Security Team here at Square One to be involved in. We have a fantastic working relationship with the Police here and have been involved in many programs with them."
In addition, Square One Shopping Centre is donating new men's clothing received through lost and found that has not been claimed as well as anything that guards have purchased and wish to donate. The drive runs all year long and ends just before Remembrance Day. Studies show that while it is difficult to get an exact number, upwards of 2,250 Veterans are homeless and using temporary living quarters, many of whom suffer from mental health issues such as Post Traumatic Stress Disorder.
Spencer adds,
A few of the team members have a personal connection with the Canadian Armed Forces – whether it be themselves personally, or family members who have served or currently serving. We are all happy and proud to be able to contribute to such an amazing cause, and hope to really help out a many Veterans. They have served us and this country selflessly for years; it's the least we could do to say thank you.
We are so proud of our Paladin Family members for never ceasing to make an impact in their own communities!