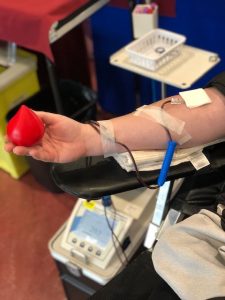 Every sixty-seconds each day, someone in Canada needs blood. This constant need for blood donations can result in life or death scenarios for patients, crash victims, and sick babies in dire need. A leukemia patient can require up to eight units of blood a week, while a victim of a car crash can need up to 50 units of blood to survive their injuries.
Canadian Blood Services (also known as Canada's lifeline) relies on the generosity of hundreds of thousands of Canadians to help give the gift of life. Most donors are only eligible to donate blood once every 56 days, for some it is longer. Having a limited number of donation period increases the importance for Canadian Blood Services to have a large pool of donors that can meet this persistent demand.
Paladin's "Give a Little, Save a Life" Donation Campaign
This September, our Paladin family across Canada rolled up their sleeves to donate blood and support this cause. Paladin Officers and office staff  signed up to donate to Canada's lifeline, knowing the lifesaving impact each of their donations can have on an individual, as one pint of blood can save up to three lives.
Staff who were not eligible to donate were encouraged to get involved with the organization in other capacities, such as donating stem cells, registering as an organ or tissue donor, or volunteering.
We are extremely proud that this year Paladin was able to beat our goal of 70 pledges and has donated a total of 80 units of blood! We sincerely thank all of our staff for participating and donating throughout our week-long campaign to help meet the urgent need for blood donations.
But we don't stop there. Paladin commits ourselves to donating 100 pints of blood each year. We encourage staff members to donate as many times as they are safely able to.
Our Commitment to Year-Round Giving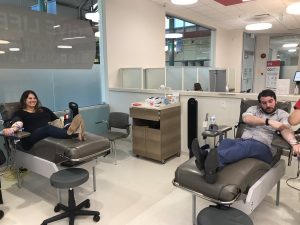 Canadian Blood Services is part of our Four Seasons of Giving program, which is a corporate-led initiative that is carried out at each of our branches. As one of the organization's national lifeline partners, we believe that this important initiative allows us to give back to our communities and make a profound impact on someone's life.
Beth Frise, Manager - Partnership Development, Donor Acquisition Experience & Performance at Canadian Blood Services commented on Paladin's continuous support by saying:
"We depend on the generosity of our partners to help us fulfill our commitment to patients. We are grateful to have Paladin Security as a partner and for the support your organization provided us last month, as well as throughout the year."
Find out more about our four seasons of giving and the other initiatives that we support on our Paladin Cares page.
Paladin Security's mission is to make the world a safer and friendlier place and every season our team continuously strives to go above and beyond to make a difference in our local communities. Their acts of kindness have impacted the lives of many patients and their families. We thank all of our Paladin family who supported and participated in our Canada-wide blood drive!
To learn more about Canadian Blood Services and how you can get involved, visit: www.blood.ca
For Paladin employees looking to get more information about donating blood with Paladin Security, please contact your Employee Care Coordinator.
Reader Interactions