Newfoundland and Labrador Snowstorm
Sometimes life presents us with mountains that feel impossible to climb. Recently, Paladin Security officers in Newfoundland and Labrador were faced with working long hours due to an extreme winter storm. Despite the blizzard conditions, they took this challenge and turned it into an opportunity to display the Paladin Difference towards their community and each other.
On January 17, 2020, a snowstorm of the century struck the province of Newfoundland and Labrador. St. John's broke a 1-day snowfall record with 69cm of snow falling at their International Airport, along with wind gusts up to 135km per hour.
The widely captured snowstorm has been coined as "Snowmageddon 2020" online. Not only were the extreme weather conditions seen in St. John's, but also Harbour Grace, Carbonear, Clarenville, Bonavista, Burin, Gander, and Grand Falls-Winsor. The final totals of snow ranged from 35cm to 93cm in different communities.

Ensuring Safety During the Snowstorm
Security officers who arrived for their shift on the morning of January 17, soon prepared to embrace the storm alongside team members. Since most communities were under a State of Emergency, many hardworking officers were on site for up to 50 hours. This was a result of very poor driving conditions, resulting in a state of emergency being declared banning vehicles from the roads, which did not allow for all officers to be relieved from their shift.
Those who were at sites without relief, stuck together as a team and took turns sleeping. Despite the significant weather issues, Paladin security officers carried on with their duties with a smile on their face. These outstanding officers stepped up to make the best of the situation and ensured everyone on site was safe and secure. Below are some of their courageous stories.
Stories of Bravery and Dedication
Investigating a Fire Alarm During the Snowstorm
Daniel Okoro-Igwe, an officer at the Health Science Centre, mentions how one of the biggest challenges his team dealt with during the storm was a stage 2 fire alarm.
Security Officer Jordan Rideout and I were at the fire panel at the Health Science Centre. When we discovered the alarm source was at the med school, we had to run over to another side of the building in order figure out what was going on. I am proud to say we handled it very well, as we did not have to evacuate the building during the storm!
- Daniel Okoro-Igwe, Security Officer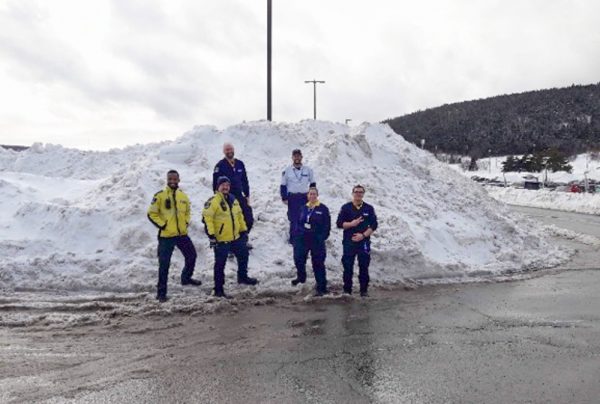 Coming Together as a Team
Site Supervisor at Carbonear & Harbour Grace, Anthony Suppa, reflects on the amazing teamwork he witnessed during Newfoundland's snowstorm.
For us, this past storm was all about "banding together". In other words, this storm was about two sites coming together to work as a team.
- Anthony Suppa, Site Supervisor
Anthony mentions two security officer's who were shining examples of the Paladin Difference during the extreme weather conditions. One officer is Frank Parsons, who worked 26 hours straight at Grace Centre. Frank later arranged a ride on a front loader for Steven Mainville, the second outstanding officer who came to relieve him. Steven ended up covering the next day as well and worked a total of 23 hours until relief arrived.
It's also worthy to mention the rest of our team who provided extra assistance. They did an amazing job keeping emergency exists open, as well as escorting patients, visitors, and staff to ensure safety and security at all times.
- Anthony Suppa, Site Supervisor
In addition to working as a team to provide security and safety measurements, Anthony's teammates also rotated taking breaks to make sure no one became exhausted and overtired. This included sleep breaks coordinated with security, management, and staff at the Grace Centre.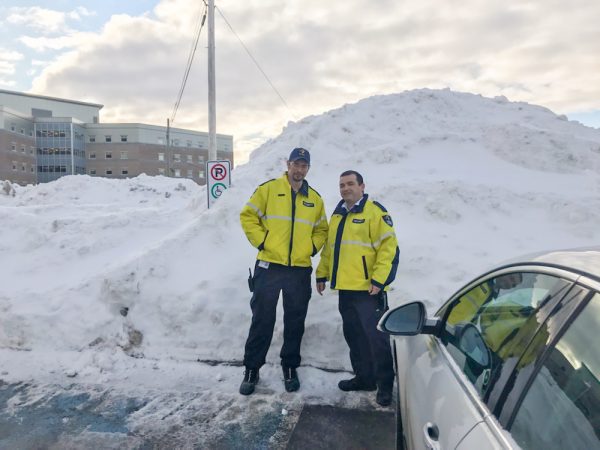 Clearing Snow to Provide Shift Relief
Yvette Lacasse, Site Supervisor at the James Paton Memorial Regional Health Centre (JPMRHC) and Central Newfoundland Regional Health Centre (CNRHC), shares the following story of her courageous and committed team.
Security Officer Gary Cantwell was called by his fellow teammates at 5AM for an important request. Rendell, another officer, was unable to be relieved from his shift due to a large snow hill blocking the entrance of the Central Newfoundland Regional Health Centre (CNRHC). Without hesitation, Gary got into his Toyota Tundra, headed over to CNRHC, and used his truck to plow out 5-foot snow drifts. Clearing the snow with his truck led to relieving Rendell on his day off.
Below is a photo of the JPMRHC on January 17, 2020 versus January 24, 2020.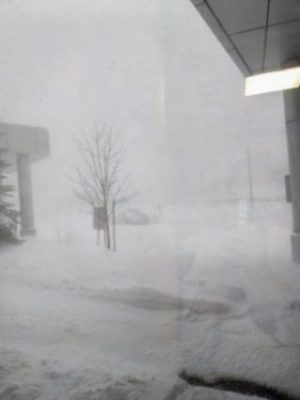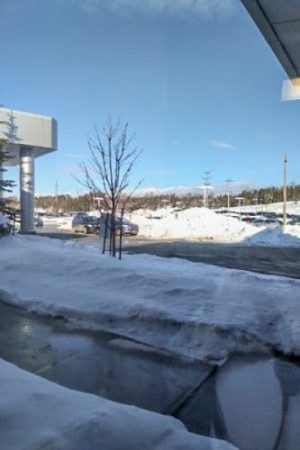 Offering Safe Rides to Work
Branch Manager, Cy Thompson, helped the mobile unit pick up officers and bring them to their scheduled shifts once the snow stopped on Saturday evening. However, one officer was unable to be picked up from their house, since the side road they lived on had not yet been plowed. Despite these circumstances, the brave officer snowshoed for over 20 minutes until they reached the main road. From this location, Cy was able to pick the officer up and take them to their site.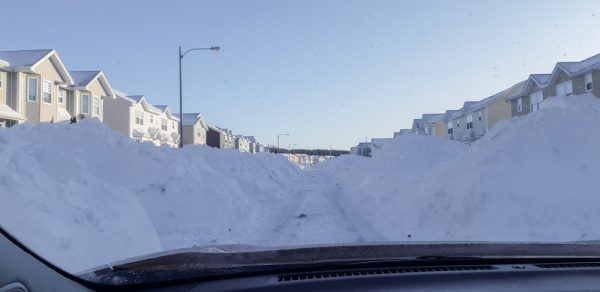 Paladin Security Featured in The Telegram
In addition to the amazing stories our officers shared, we were also honoured to be reached out by The Telegram, Newfoundland and Labrador's largest daily newspaper. Various officers spoke with The Telegram about their persistence during the storm and the extra hours they put in to ensure safety.
To read the article, click here: Paladin Security to recognize staff for blizzard efforts in St. John's region
Our St. John's branch is looking forward to having an event in the near future to commend everyone for going above and beyond their call of duty. Once again, we want to thank our incredible team in Newfoundland for the support and dedication they demonstrated during the blizzard. Their embodiment of the Paladin Difference has been greatly recognized by Paladin Family members across the country, as well as clients and the local community. We are very proud to have each one of them a part of the Paladin Family!
Reader Interactions