Paladin Security announces new office in Lethbridge to accommodate growth and new enhanced training space.
New Lethbridge Location
Growth sparks conversation, and with our Lethbridge team expanding, a conversation regularly mentioned was the idea of moving into a bigger office space.
For our close-knit team of Paladin Family members in Lethbridge, the Mayor Magrath location served them well for over seven years. However, with the addition of three new staff members this past year, the timing was right for our Lethbridge team to turn their conversation into reality.
We are extremely pleased to be moving into our new office! While the Mayor Magrath location has served us well, we have simply outgrown the space. In the past year, we have added in three new office positions to help increase our service level to our customers and security staff. With the addition of these three amazing staff members, we needed a much bigger space and the Stafford location offered that.

John Mattix, Operations Manager
You can visit our Lethbridge Paladin Family at their new office address: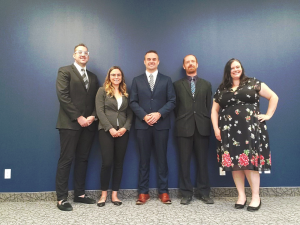 Our team has worked hard to showcase the Paladin Difference in the Lethbridge community, and will continue to do so in their new office by offering:
New Training Space for Lethbridge Security Guards
In addition to needing a larger office to accommodate our growing presence in Lethbridge, we were also looking to expand our training space. A larger space would enhance our ability to train security officers, clients, and management staff, strengthen our support of current contracts, as well as allow for service expansion in the coming years. With nearly 900 sq/ft of dedicated training space, our new location allows for this and more!
Our previous office space only had a small training area, which limited some of the class sizes and course offerings that our industry leading trainers could provide. We are very excited our new office has such a large training centre. This extra space will provide our new and existing staff with more opportunities to receive multiple reps on all training points of our extensive training curriculum!

John Mattix, Operations Manager
Security Guard Services in Lethbridge
At our new office in Lethbridge, our team will continue to provide innovative security guard services and solutions in the following vertical markets:
If you are near the area, we encourage you to stop by, say hello, and take a tour of the new office space!
Careers at Paladin Security
Are you interested in joining Paladin Security in Lethbridge? Discover security guard jobs and office positions here.