Branches from Coast to Coast rally to send Sydney and Family to a World Class Resort
February 5, 2018 – TORONTO, ON – Paladin Security branches from coast to coast joined effort to send four-year-old Sydney and her family to a world-class Florida resort in partnership with Make-A-Wish® Canada.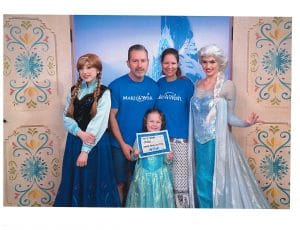 Sydney, a bright and kind-natured four-year-old girl, has been bravely battling Acute Lymphoblastic Leukemia. She has spent long days in the hospital undergoing treatments, often drawing her strength from her favourite Ice Queen character. She has often dreamt of what it would be like to meet her in person, and with Paladin's support, Sydney and her parents were able to experience the trip of a lifetime and create new, unforgettable memories.
The campaign was made possible by the support of the whole Paladin Security family from coast to coast. With 26 branches across Canada, each designed different campaigns throughout November and December, 2017 to ensure funds were raised to make Sydney's wish come true.
Paladin CEO Ashley Cooper commented on the Paladin effort saying,
From head shavings to 50/50 draws, and from barbeques to Tooney tosses, our people across the country pulled out all stops including hosting a Foosball tournament in Vancouver and a Dodgeball tournament in Toronto. I couldn't be more proud of the Paladin Family and their deep-rooted desire to help Sydney achieve her wish.
Sydney's mom spoke of the entire experience,
Thank you for a trip of a lifetime. Every moment was wonderful and Give the Kids the World Resort was a true highlight. We have such great memories of our Make-A- Wish® trip!
A wish come true helps children feel stronger, more energetic and able to battle their life-threatening medical conditions. For many of them, it marks a turning point in their fight against their illnesses. For their doctors, nurses and other health professionals, the Wish® experience works in conjunction with medicine to make their patients feel better – both emotionally and physically. With this gift, Sydney's strength and optimism is renewed, bringing joy to her and her family at a time when it is needed most.
This experience has created a transformative experience for Sydney and her family – a chance to be a child again, away from hospitals and treatments. Each child is given a chance to replace anxiety, fear and hardship with the hope that anything is possible.
-30-