Paladin Security is pleased to announce that we have partnered with Make-A-Wish® Canada for the third year to help support four-year-old Sydney who is battling Acute Lymphoblastic Leukemia.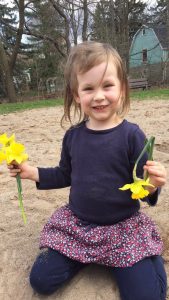 Make-A-Wish® Canada's mission is to grant the wishes of children with life-threatening medical conditions to enrich the human experience with hope, strength and joy. Make-A-Wish® Canada is an affiliate of Make-A-Wish® International, the largest wish-granting organization in the world, making dreams and wishes come true for more than 415,000 children since 1980.
Sydney has a smile that lights up a room. While going through treatment, she would often talk about her favourite Queen and her ice powers! She often dreams of what it would be like to meet her in person and with Paladin's support, Sydney and her parents will get to experience the trip of a lifetime together at a magical theme park in Florida!
Meghan McGill, Senior Manager, Fund Development, Make-A-Wish® comments,
We are thrilled to partner with Paladin Security to grant Sydney's one true wish. The Paladin team makes such an impact on our wish kids and their families every year, bringing happiness and healing at a time when it's needed most.
Paladin's teams from coast to coast will host fundraising campaigns and events within their communities to reach our goal of granting Sydney's wish.
Paladin COO Don MacAlister states,
Our Paladin family is very excited to show their passion and creativity in our partnership with Make-A-Wish® Canada for the third year in a row. We all want to help make Sydney's dream come true! This cause is so important to us and we are so proud to be supporting Sydney and her parents to help them have their trip of a lifetime.
To join our campaign in granting Sydney's wish, contact your local Paladin Security Office!
Facts about Sydney:
Favourite Colour: Pink
Favourite TV Show: Doc McStuffins
Favourite Sport: Toronto Blue Jays
Favourite Books: Robert Munsch
Favourite Food: Pizza, Gummies, Chocolate and Ice Cream
Hobbies: Playdoh, Lego, Painting, Singing, Dancing
Event / Campaign Ideas:
Host a luncheon featuring Sydney's favourite food
Office draw(s) for hockey tickets
Bake sales
50/50 Raffle
Board Game Tournament
Balloon Pop
Toonie Toss
Car Wash
Bottle Drives
Eating Contest