"If you don't use it, you'll lose it".
-Jason Magallanes, National Training and Development Manager
When it comes to first aid, keeping up on your skills and new information is crucial. If you aren't performing CPR daily or assisting someone who's having a stroke (which most of us aren't), the training can quickly and easily be forgotten. But that means when it is time to step in during an emergency, what will you remember?
We want to help keep first aid and lifesaving skills at the top of your mind, so we have created an eight-part mini-series that will appear once a month to do just that. Our first few topics were emergency scene management, severe bleeding, broken bones, CPR, heart attacks and strokes, and mental health awareness. This month's topic is choking.
What is choking?
Choking can be scary and could turn into a serious situation if not taken care of immediately. Choking happens when a foreign object, like a piece of food or a toy, is partially or completely blocking the airway. Mild choking is when the blockage is partially obstructing the airway, while a complete obstruction is when the airway is fully blocked.
Mild Choking
If someone is mildly choking, they will likely be coughing due to only a small amount of air getting through. Coughing is a natural way for the body to clear any obstructions. As a first aider, if you encounter a person choking, continue to encourage coughing while monitoring their level of consciousness and ability to 'cough it out'.
Complete Obstruction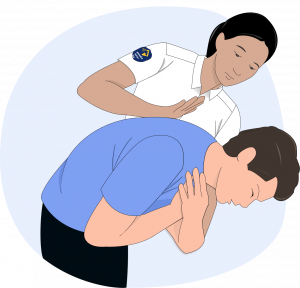 If a person's airway is completely blocked, a first aider will have to intervene. Due to the lack of air the person is getting, they will only be conscious for a short time. That means you, as a first aider, will have to work quickly to address the choking. If not, then the person will become an unconscious choking casualty. That can be more dangerous as the brain now has an interruption of airflow, which can cause permanent damage. Deprivation of oxygen can occur after 4-6 minutes in an adult and a lot sooner in a teen, child, or baby.
Signs and Symptoms
Usually, when a person is choking, they will hold their hands to their throat indicating they need help. Sometimes, people will be embarrassed and go somewhere private to try and clear their airway. If you see someone who you think may be choking leave an area or group, follow them and check that they are okay.
Treating Choking
If you see someone dealing with what appears to be a mild obstruction, it's important to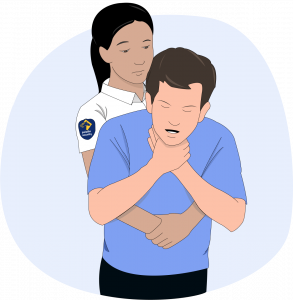 encourage them to cough it out. If they need more assistance, continue with the following steps:
Identify yourself by saying "I'm trained in first aid, can I help?"
If they can't cough it out, begin with five back blows.

These are strong, sharp blows between the shoulder blades with the person leaning slightly forward.

If the back blows don't work, begin with five abdominal thrusts.

These act like quick, sharp, artificial coughs that use the air in the person's lungs to push out the obstruction.

Repeat back blows followed by abdominal thrusts until the object comes out of the person goes unresponsive.
If they lose consciousness, lower them to the floor and begin compressions as you would in CPR

At the end of 30 compressions, check the airway for obstruction. Clear if it's visible with a two-finger sweep. Give two breaths. Continue until medical aid arrives.
As a first aider, it's important to do the best you can with the skills you've been trained with. Keep your training up to date and stay refreshed on your basic first aid skills.
For more Safety Tips around the security industry, make sure to read these helpful articles!
Reader Interactions