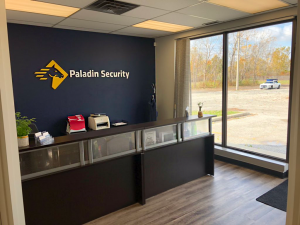 On Friday, November 1st our Windsor branch recently moved info a new office from their previous downtown location.
The new office features an open concept working environment, improved facility for training and staff, and an overall enhanced workspace for our Windsor team.
Construction was completed by Oscar Construction, while the office's security systems and audio visual systems work was being completed by Paladin Technologies, who specialize in commercial systems.
Paladin has been a proud security provider to Windsor and southern Ontario since 2001. This new office space will allow us to continue to provide our clients with premiere services. In addition, the new space provides a larger setting for us to offer our employees even more industry leading training.
We are all very excited for the move to our brand-new office. It will be a great start in a fresh space just ahead of the new year.

- Branch Manager Jason Lynagh
You can find us at the New Office Location:
2885 Lauzon Parkway
Unit 116, Windsor ON N8T 3H5.
Business Inquiries:
Our staff are more than happy to assist with any of our security services offered in the following industries.
For further information, please contact the Windsor branch directly:
Email: windsorinfo@paladinsecurity.com
Tel: (519) 945-9975
We are growing our team in Windsor! If you are interested in applying for a security position in Windsor, please click here.