Health and safety are core values of Paladin Security. For Security Officer Ryland McNutt, they are also two values he embodies both on duty and off.
Ryland joined Paladin in December of 2015 as a Dispatch Guard in Truro, Nova Scotia for our Halifax Branch. His education in Police Foundations provided a base of knowledge for his position. However, it is Ryland's volunteer experience that has contributed greatly to shaping his successful career.
In April of 2019, the Village of Bible Hill presented Ryland McNutt and his parents, Carvell and Avis, with the first ever Generations of Volunteering Award. This award represents a huge appreciation towards the McNutt family for their continued years of service to the Village and the Bible Hill Fire Brigade.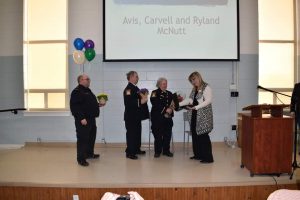 "The McNutt's have been longstanding fixtures in our Brigade and the Village has been safer because of them."
- The Village of Bible Hill
Since 1977, Carvell McNutt has been an active member with the Bible Hill Fire Brigade. Eventually, his involvement sparked a passion for both his wife, Avis, and son, Ryland. In 2001, Avis joined as an active member and Brigade treasurer. Ryland later became a member in 2009, as well as serving between 2003 and 2006.
We are honoured to have Ryland, a dedicated and caring Security Officer, as part of the Paladin Family. With the news of the McNutt's achievement, the Paladin Family was interested in hearing more from Ryland's perspective. To discover how a career at Paladin provided Ryland with flexibility and skills to succeed in his volunteering, continue reading his story below.
Strengthening Community & Career
With over ten years of volunteering for his community, Ryland has had the opportunity to take on exciting leadership roles. These opportunities include:
1.      Bible Hill Fire Department
Drives & operates fire trucks for emergency calls
Medical First Responder
2.      Special Hazards Response Unit
As a Logistics Officer, Ryland deals with:

Hazardous Materials calls
Ice & water rescue
High angle & rope rescue
Fuel & chemical spills on highways

Ensures all equipment and members are in the correct locations
Attends local events and has travelled to attend HazMat conferences in the US
3.      Atlantic Burn Camp & Camp Connect
Volunteers with burn survivors, firefighters, and medical staff, to help children and adults who have suffered from burns

"If I can save one person by teaching them fire safety, then I have done my job. At the end of the day, we are all a family. I just happen to be lucky that some of my fire family is also my blood family."
- Ryland McNutt
Flexible Schedule & Skills
Ryland works on a rotating schedule, which allows him to look in advance and see when he is available to volunteer.
Many people love the idea of volunteering but may not have flexibility with their jobs to make time for it. At Paladin, my schedule is very flexible, and my co-workers are more than willing to swap shifts with me so I can attend volunteer events.

- Ryland McNutt
While working for Paladin, Ryland has strengthened his interpersonal skills. Improving his communication skills and learning to handle tough situations, has also enabled him to become successful in his volunteer roles as well.
As a Security Officer, Ryland applies his volunteer firefighting experience to provide relevant information to firefighters and 9-1-1 dispatchers. He also makes sure every fire extinguisher on his site are operable and up to date, which is an important safety skill he learned through volunteering.
Volunteer Advice
Ryland has three words for anyone interested in volunteering: Just do it.
From volunteering with the Bible Hill Fire Brigade to Scout Canada, Ryland has had the opportunity to receive beneficial training and life experiences. Best of all, he has been rewarded with life-long friends who have become second family to him.
There are many volunteer groups who need you, and you never know what it could lead to. In the past, I have travelled the province and the US, while meeting incredible people.

- Ryland McNutt
Ryland recognizes Paladin Security and his supervisors as a support team who pushes him to excel as both a Security Officer and volunteer. The strong foundation of co-workers that he can rely on, has helped shape Ryland into the dedicated and confident individual he is today.

"I work hard as a Security Officer to keep things flowing smoothly for my team.
I  volunteer because people's lives are always at risk.
 Ensuring everyone is safe, healthy, and secure is an important value of mine."
- Ryland McNutt
Paladin prides itself on supporting our employees with flexible schedules, extensive training, and opportunities for advancement. If you are looking for a career with accommodating shift schedules, we are currently hiring for positions at our branches across Canada. View our open positions here.