Our daily work routines can turn into rituals we no longer need to think twice about.
Arrive at work
Turn on your computer
Pour yourself a cup of coffee
What happens then, when a life saving moment arises amidst a routine day?
Avitesh Bhullar, a Paladin Security Officer from our Kitchener branch, arrives at work in a familiar pattern. He finds a parking spot at Conestoga College, makes sure his uniform is in excellent condition, and heads through the front doors to begin his shift.
Although his pre-shift activities may appear routine, no two shifts of his are the same. As a Security Officer, Avitesh always remains alert since he is prepared to take on new challenges each day.
During one particular shift, Avitesh received a notification that would change an individual's life forever.
When on patrol at Conestoga College, a bystander approached Avitesh in a complete panic. They explained how they discovered an elderly man lying unconscious on the ground. Once Avitesh heard where the male was located, he quickly jumped into action.
Fortunately, Avitesh had been equipped with advanced security guard training to prepare himself for emergency situations. Paladin has earned a national reputation as the leading training organization within the security industry. Our Security Officers undergo the following steps to ensure they are prepared for their role and site location.
Before joining Paladin, all prospective Security Officers must successfully complete our Basic Security Officer Training course (BSOT). This 40-hour course covers basic skills for Security Officers to succeed in their role.
Once hired on, our Security Officers receive additional specialized training based on their site assignment and the type of industry they will be placed in.
Paladin also provides the most advanced methods of delivering and documenting site orientation training at every site project we protect.
It only took seconds for Avitesh to arrive at the scene. His initial assessment indicated the individual was unresponsive and not breathing. The seriousness of the individuals condition required Avitesh to perform CPR and operate an Automated External Defibrillator (AED).
As Avitesh waited for emergency services to arrive, he continued to utilize his first aid training and AED training effectively. In addition to utilizing the AED device, Avitesh also provided chest compressions that successfully resuscitated the individual.
Once emergency services arrived, they immediately thanked Avitesh for his swift action and determination to save the individual's life.
Avitesh Bhullar comments:
I am confident my training at Paladin Security provided me with the tools to take decisive action to save this individual's life. My extensive site training and experience at Conestoga College also helped me remain calm throughout the entire incident. This was a very emotional experience for me, but the training I received from Paladin prepared me for each step.
We are proud of Avitesh for representing Paladin Security and the Conestoga College security team to the highest possible standard during this incident. His performance earned him Paladin's Performance of the Month award, one of Paladin's three-monthly awards given to Security Officers who go above and beyond. Avitesh continues to receive high praise from the client, his fellow peers, emergency medical services, and Paladin Security management, for his commendable service to the community.
Thank you, Avitesh, for your commitment to making the world a safer and friendlier place.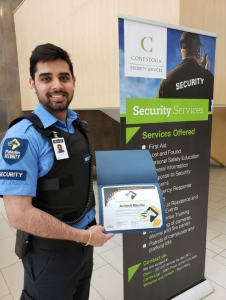 Avitesh Bhullar receiving his award for Performance of the Month
Are you interested in becoming a Security Officer? Paladin is currently hiring for positions at our branches across Canada. View our open positions here.
Discover more security guard stories: