At Paladin, we're all about helping our team members grow and reach their full potential. The first value of Paladin's C.A.R.E. culture is to be "Curious" by seeking opportunities to learn and improve. We believe that investing in our employees is the key to building a strong, successful team. Through our Promotion-from-within philosophy, employees can plot their career paths within Paladin. Our goal is not just to fill shifts; it's to nurture careers and professionalize the security industry. 
In our feature, Then and Now, we showcase the inspirational journeys of our Paladinians rising through the ranks. This week, we're thrilled to feature the story of Ashley Lamb, a Healthcare Zone Supervisor in Alberta. 
How it Started
While doing an interview for a dispatch/scheduling position with Paladin, Ashley discussed her future goals with the Client Service Manager conducting the interview.  He mentioned she would be a great fit for Healthcare Security. Shortly after, she joined Paladin in Healthcare Security as an on-call unit watch guard. A month later the job became permanent as she moved into a Healthcare Static/Core position which is a full-time role on a designated team. Ashley's hard work and determination then led her to become Shift Lead, which unleashed a passion she didn't know she had. 
 "I love training and providing coaching and opportunities," Ashley said.  
 Two and a half years later she was promoted to her current position, Healthcare Zone Supervisor.  
Paladin's Promotion from Within Philosophy
Ashley heard about Paladin's Promotion from Within philosophy soon after starting. She said it helped her discover skills she didn't know she had and soon led her to a Zone Supervisor role. She credits her managers for recognizing her capabilities in order to grow. She says the Peace Officers and Core Guards she often worked with were also a huge support during her growth. 
"I've always liked moving up and exploring my options. I never just put my blinders on and say this is my job. I love learning. From the minute I started, I expressed that I wanted to move up right away. Once I built rapport with Peace officers and other peers, I made it known," explained Ashley. 
She says those relationships she built with her mentors are some of her favourite things about working for Paladin Security. 
Transitioning from Field to Office
For Ashley there were pros and cons to transitioning from the field to the office. Switching from being on the go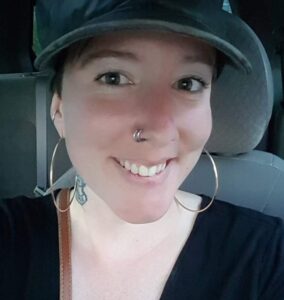 all the time to completing admirative tasks came as a bit of a shock but she was able to find her stride. She says while the pace is different from being boots on the ground in a busy hospital, she always finds ways to keep busy and gets to do regular site visits, which is something she looks forward to. 
Next up on Ashley's radar? Law enforcement as she's looking to use her experience at Paladin to obtain a position with the Calgary Police Force or as a Peace Officer. Transitioning from security into law enforcement is a common move as it equips people with the necessary skills and experience. Read more about it here. 
Ashley's advice to Others
"Network – talk to everyone and anyone. If you have someone you're comfortable with, ask them how they progressed. Ask for advice. Just do it! Put yourself out there. A ride along with CPS gave me some great insight and helped me choose which career I wanted to pursue." 
Thank you for sharing your inspirational security journey Ashley! We can't wait to see where you go next.
---
If you were inspired by Ashley's story and are interested in starting a meaningful and rewarding career in security, check out our careers page. 
If you want to jumpstart your security career, learn How to Become A Security Officer. Unsure about how to submit a strong resume for a security position? Here is a free downloadable template to write the ideal Security Guard resume. 
Listen to The Difference Makers podcast and read our blog to learn more about us and the exciting world of security. 
Reader Interactions