There are over 4,000 warehousing and storage establishments in Canada. These buildings are used in various industries and provide an abundance of jobs. Unfortunately, just as abundant are the workplace injuries that occur in these establishments.
Therefore, if you're responsible for safety in your warehouse, it is important to educate yourself on the various warehouse hazards. Learn about the best ways to keep your workers safe in this article.
Why Is Safety Important In A Warehouse?
8 Warehouse Safety Tips That Prevent Accidents
How To Improve Warehouse Safety
The Cost of Warehouse Accidents
Why Is Safety Important
In A Warehouse?
Warehouses are notorious for being one of the most dangerous workplace environments. Workers are often seriously injured and some even die as a result of warehouse hazards. The U.S. Department of Labor reported an injury and illness rate of 5% amongst warehouse and storage workers along with 22 deaths in 2017.  And according to the Occupational Safety and Health Administration, "the fatal injury rate for the warehousing industry is higher than the national average for all industries."
The data is alarming. As an industry, developing strategies to improve employee safety needs to be a primary focus of the organization. This is especially since most injuries and fatalities can be prevented.
Every employer is responsible for providing a safe and healthy workplace. When the hazards are high due to the nature of the job, a robust safety plan is crucial.
7 Common Warehouse Hazards
There are various health and safety risks you could encounter when working in a warehouse. Being aware of the risks is the first step towards improving safety.
1. Forklifts
Forklifts are essential vehicles for every warehouse. They also happen to be a leading cause in serious accidents due to poor training, impaired vision in cluttered areas, and insecure loads. The Occupational Safety & Health Administration estimates that forklifts account for 96,700 injuries and 85 deaths every year.  The worst part is, 70% of those accidents could have been prevented.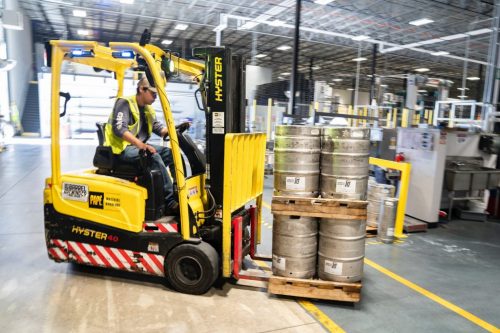 Forklifts are a leading cause of
injury and death in warehouse workers.
2. Loading Docks
Loading docks are typically a high-traffic area with a dangerous combination of vehicles, machinery, and pedestrians. As a result, this presents a range of risks for shipping and receiving workers. Most often, accidents are due to:
Unsafe operation of trucks, trailers and forklifts
Falling items that were not secured
Falling dock plates
Employers, take heed. These chaotic areas can be are a prime location for accidents.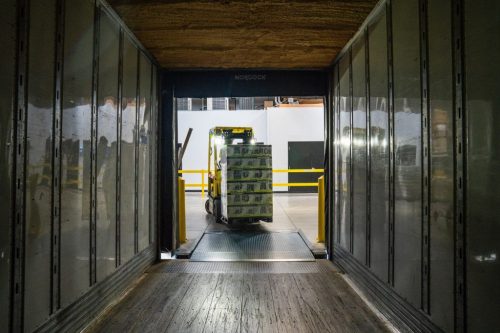 Loading docks are a prime location for accidents.
3. Storage
Improper placement on shelves can result in falling objects that pose as a hazard for nearby workers. If heavy loads aren't secured appropriately, entire racking systems can collapse. In other words, these situations commonly bring about severe injury or death.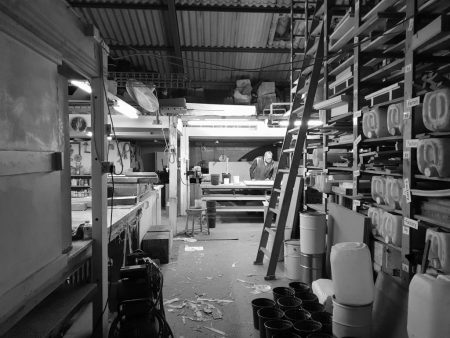 With the risk of falling objects and structure
failure, storage is a common warehouse hazard.
4. Manual Lifting
Lifting, reaching, pulling and pushing can be part of a warehouse worker's daily duties. Too often, warehouse employees overestimate their strength limits. They overexert themselves and don't use correct posture when lifting. Repetitive motions that strain the body, especially when performed without correct posture, can cause musculoskeletal injuries.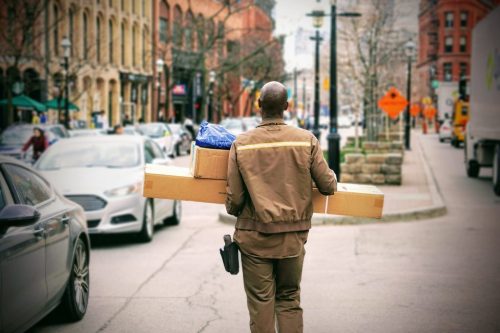 Manual lifting can strain the body and cause harm.
5. Hazardous Chemicals
Handling dangerous chemicals can pose a major risk for employees. For instance, without the proper training and equipment, unsafe handling, storage and disposal, all pose risks of respiratory illness and involuntary contact with dangerous substances.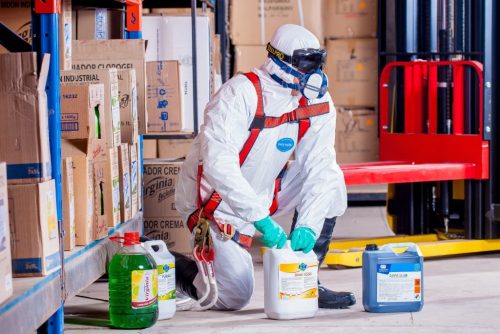 Unsafe handling of substances can result
in respiratory illness and involuntary contact.
6. Slips, Trips & Falls
According to the National Safety Council, in 2013, injuries recorded under this category resulted in the death of 724 workers. Although, this shouldn't be surprising seeing that it is so common for warehouse workers to encounter the following hazards:
Slippery surfaces (e.g., oily or greasy, snow and ice)
Wet or dry spills
Changes in walkway levels and slopes
Unsecured mats
Poor lighting
Cluttered walkways
Slips, trips and falls can occur in any workplace. However, warehouses definitely present an increased risk potential.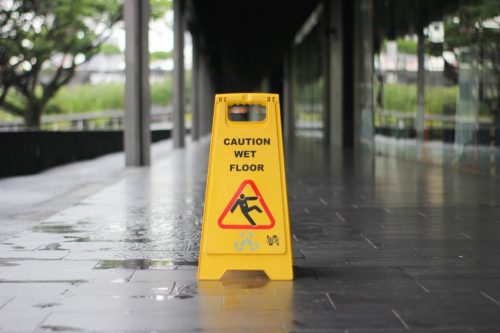 Warehouses have an
increased risk of slips, trips and falls.
7. Fires
Fires can ruin expensive equipment and inventory. They can burn entire structures. Therefore, fires greatly put peoples' lives at risk. The leading causes of warehouse fires are:
Arson (18%)
Electrical equipment (18%)
Heating equipment (8%)
Flammable and combustible substances (7%)
Smoking materials (5%)
With an average of 19 injured and 3 lives lost per year between 2009-2013, (according to the National Fire Protection Association) fire hazards cannot be ignored.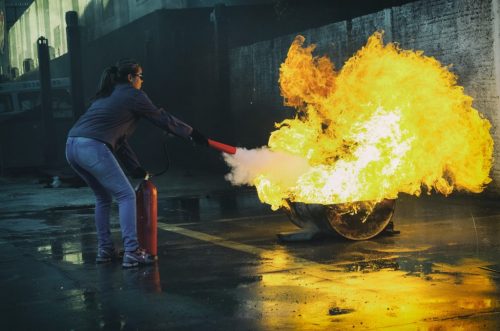 Warehouse fire hazards are a major safety concern.
8 Warehouse Safety Tips
To Prevent Accidents
It is crucial to minimize accidents caused by the above hazards. Therefore, every warehouse should follow these fundamental rules:
Maintain records - Keep records of all safety incidents to help you identify trends in unsafe conditions or work procedures.
Train your employees - Provide training and refresher courses that include education on emergency protocols, safety procedures and the proper use of equipment
Ensure certified operation only - Prevent accidents involving vehicles and other equipment by only allowing operation by certified workers. In other words, this should be strictly enforced.
Minimize physical impact - Educate employees on proper lifting techniques and ensure that employees are taking enough breaks. In addition, install equipment that supports ergonomics wherever possible (ie. anti-fatigue mats).
Use clear signage - Maintain proper signage for traffic (vehicle and pedestrian), safety instructions and hazardous zones.
Keep tidy - Train employees on the importance of collectively working together in order to keep aisles clear and storage tidy.
Make personal protective equipment mandatory - Strictly enforce the use of hard hats, appropriate footwear, clothing and eye gear.
Build a culture of safety - Management should make an effort to not only enforce strict guidelines but foster a sense of shared responsibility when it comes to warehouse safety.
Our Warehouse Safety Checklist
Regular audits need to be conducted to improve warehouse safety. The above safety guidelines don't work as a set-it-and-forget-it strategy. In other words, procedures need to be monitored and updated as deemed necessary. These audits should assess the effectiveness of current safety precautions and identify potential hazards.
The following inspection checklist covers the main areas that need to be examined at your warehouse:
   Review current safety precautions and rules
   Examine company records for workplace accidents. Look for data on types of accidents, frequency of mishaps and potential causes
   Evaluate the warehouse safety training program
   Evaluate implementation of emergency and safety procedures
   Inspect storage for potential hazards
   Inspect machinery, vehicles and equipment for defects
   Observe traffic flow for safety hazards
   Determine if material handling procedures are being followed by all employees
   Assess employees to see if personal protective equipment is worn when required
   Assess employees for ergonomic movement, workload and posture during manual transportation of goods in your warehouse
   Check conditions of aisles, stairs and walkways
   Check for effective signage
   Establish a health and safety committee to review workplace safety; in most provinces this is mandatory for workplaces with 20 or more employees
   Designate someone as a safety representative whom staff can bring concerns forward to
   Conduct regular inspections of the workspace
   Setup a schedule to inspect or do maintenance on safety equipment
   Review all incidents or near misses with staff to keep safety top of mind, educate them on dangers in their workspace, and to discuss improvements to avoid similar incidents in the future
Audits need to be thorough and they need to comply with your region's warehouse safety rules and regulations. Therefore, hiring a third party to conduct an occupational health and safety audit is highly recommended.
The Cost of Warehouse Accidents
In addition to the negative impact on your employees' health and safety, the cost of warehouse accidents on the business itself can also be pricey. For instance, an employer can expect to see lost productivity, lowered employee morale, higher insurance bills, and hefty fines.
Don't wait for an accident to happen. We can help you improve your warehouse safety conditions through our Occupational Health and Safety audits.
Reader Interactions