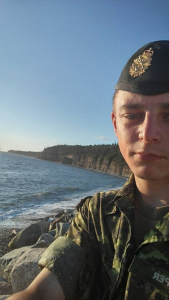 How long have you been with Paladin Security?
I have been with the company for a little over two months now and look forward to each day.
What is the organization you are involved in outside of Paladin?
I am part of 36 Service Battalion which is a reserve unit in Halifax. My trade is a Mobile Support Equipment Operators which operate military vehicles ranging in size.
What skills/values have you developed while in service that help you be successful in your role today?
Being alert and knowing your surroundings is a huge deal with some military procedures as well as security.
What motivates you in your career goals?
The people around me motivate me to work hard, and the way I like to think of myself help me excel through and hopefully expand my career.
If you could give advice to someone following in your footsteps today, what would it be?
Don't give up and never let someone tell you that you are not good enough or can't do a certain task, just keep trying and prove them wrong.
What does Remembrance Day mean to you?
Remembrance can mean many different things to many different people but to me it's a day to remember and honour those who fought for our country and risked all they have.