Paladin strives for the constant evolution and growth of our people. The first value of Paladin's C.A.R.E. culture is to be "Curious" by seeking opportunities to learn and grow. We believe employee development and career ownership are the best ways to create a strong team. Through our promotion-from-within philosophy, employees can plot their career paths within our organization. Our goal is not just to fill shifts; it's to nurture careers and professionalize the security industry.
Our culture's secret sauce goes beyond mentorships and guidance. It is the total commitment to our people and believing in their potential to grow from within that has allowed us to create an exemplary organizational structure with countless exceptional promotions.
Joshua In was recently promoted to the role of Director of Operations for the Central Ontario Region, overseeing our branches in Kitchener, Hamilton and Niagara Falls.
Joshua is a true Paladin promotion from within success story, having started his Paladin journey as a Security Officer and making his way up the company ranks. During his time with Paladin, Joshua has worked a wide variety of positions; in addition to his time in the field, he also oversaw our Toronto Operations Centre, worked as Client Service Manager and has most recently worked as part of our Program Development & Enhancement Team as one of the original members of the department.
Joshua spent the last couple of months living in New Brunswick to help Paladin open our newest branch in Moncton. He not only helped to open the branch and train our new team but did so while also overseeing the transition of the contract that included more than 250 frontline Security Officers. His work in the province was yet another example of Joshua's commitment to Paladin and his desire to constantly take on new challenges.
"We are extremely confident that Joshua will help Paladin's growth in the Central Ontario Region and support our growing team." – said Blair Davenport, Executive Vice President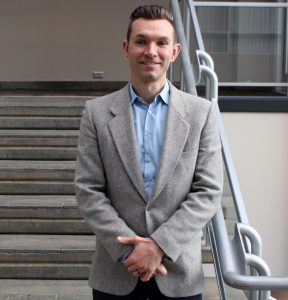 It doesn't stop there. We are also proud to announce the promotion of Ryan Anderson to Acting Director, Kamloops and Okanagan branches. In his new role, Ryan will add head of business unit responsibility for the Okanagan (Kelowna) branch on top of continuing to lead our Kamloops branch.
Since starting his career with Paladin in 2007 as a Security Officer in the Lower Mainland's healthcare division, Ryan has challenged himself with several positions within the organization, gaining experience in various managerial roles, including Site Manager for ICBC, Healthcare Manager for some of our largest Healthcare accounts in the Lower Mainland, along with his recent roles as Operations and then Branch Manager for the Kamloops office.
Since 2018 when Ryan took over as head of business for the Kamloops branch, revenue has grown by 157%, the office team grew by 80%, and our contingent of field staff has grown by 103% (adding 140 personnel!). This growth has opened the door for many Paladinians to pursue a variety of exciting roles in the region.
While the pandemic and current economic climate have been challenging for all of us to navigate, Ryan has done so with the highest level of empathy.
"Ryan's leadership skills have come to the forefront of his management style as he has developed one of the most cohesive security operational teams in all of Paladin." – says Mathew Zielinski, Senior Director.
Josh & Ryan, thank you for your dedication and professionalism! Congratulations on this next stage in your security career within The Paladin Family!
If you were inspired by their story and are interested in starting a meaningful and rewarding career in security, check out our careers page. There are endless opportunities to create your own career path within a booming and high-demand industry.
Unsure about how to submit a strong resume for a security position? Here is a free downloadable template to write the ideal Security Guard resume.
If you're still not sure, check out these amazing stories of our security professionals in action and tips on how to follow in their steps!