As Jeff Peng was nearing the end of his criminology degree in 2009, he applied to become a Paladin Security Officer to gain related experience for a career in law enforcement. Fast forward almost 11 years later and Jeff Peng has recently accepted a promotion to become the new Director of Innovation & Transformation.
Our promotion from within philosophy ensures our team has the right fit and skill set for their position. We're excited to have Jeff Peng share his journey on how he's developed a rewarding, long-term career with Paladin Security.
My Paladin Career Path
Written by Jeff Peng, Director of Innovation & Transformation
Security Officer
In August of 2009, I was completing my undergrad at Simon Fraser University (SFU), when I decided it was time to look for an opportunity to gain related law enforcement skills. My friend, who was already working with Paladin, convinced me to apply. He connected me with his Client Service Manager (CSM), and before I knew it, I was starting my first shift as a security officer at the British Columbia Institute of Technology (BCIT).
To be completely honest, my first few days of training were tough. In fact, my back and legs hurt so much from walking 20+ kilometers each day that I almost quit on the third day. Thankfully, I decided to stick it out and because of that, I'm now able to share my story with you today.
Dispatch Operator
After training for a week as a security officer, an opening came up at BCIT's site-based operations centre. I lucked out on being offered the position since nobody on my shift wanted to be trained for it. They told me it was because sitting in front of a computer 8 hours a day wasn't of interest to them. However, a part of me still thinks they were all doing me a favor since they saw me struggling and hobbling around the campus during my patrols.
Shift Supervisor
After three months, I noticed there was an opening for a graveyard Shift Supervisor position. I knew applying for this position would be a long shot, but I also knew I needed to at least express my interest. My Site Manager initially told me I wasn't ready to jump into a Supervisor role. However, they still wanted to help me achieve my career goals, so they agreed to work with me directly in order to have a better chance when the next opportunity arose. To my surprise, nobody wanted to work graveyards and no one on the graveyard team wanted to take on supervisory responsibilities. Since I had displayed interest and demonstrated my capabilities to take on this role, they offered me the position.
Working graveyards was a big adjustment for me. There were a lot of sleep deprived days and missed nights out with friends. However, this position is what allowed me to familiarize myself with the site standing orders and the physical layout of the 52-building campus. Once I graduated from SFU, I used this extra time to stick around and pick the brains of some of the experienced day-shift crew after each of my shifts.
Second in Command
Three months had passed when my Second in Command (2IC) got promoted to become a CSM. This meant their position, one that I was interested to move into, became open. After a tough interview process that involved the client, I was told I was selected based on my proven dedication and desire to learn. This was definitely one of the most enjoyable roles I have held in the organization. Being 2IC gave me a terrific opportunity to improve my leadership skills.
Site Manager
Six months later, my Site Manager started a new career in a different field. I was one of the first people he told about his decision, and after he did, I spent many hours preparing how I would approach my CSM to be considered for this position. Before I picked up the phone to call the next morning, my CSM sent me a text asking if I was interested.
BCIT was, and continues to be, one of Paladin's flagship programs. I feel really honoured to have been given the opportunity and responsibility to become the Site Manager here. However, this role was definitely a challenge at first. This position not only involved direct oversight of 35+ team members and program support for 5 satellite campuses, but I was also the day-to-day interface for a very sophisticated group of Security Managers, who all had previous careers as police officers.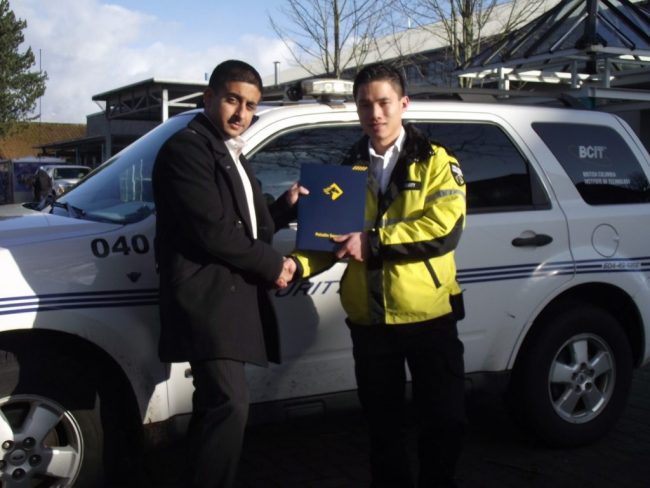 Being Denied a Promotion – A Turning Point
After a year as Site Manager, a posting came out for a Healthcare CSM position. I asked my CSM what he thought, and he encouraged me to apply. The two things I remember him saying to me was:
He knew I was keen and capable to continue growing.
He was comfortable losing me from the role because of the strong succession plan I had in place. An interesting note worth mentioning is that six of the people I managed then are now in office-based positions.
I was fortunate enough to be shortlisted to interview for the position. I can vividly remember most of my interview with the Director of Operations and the Director of Healthcare Operations. I remember the Director of Healthcare Operations being quiet throughout the interview, but near the end he asked me a question that, nine years later, I still remember verbatim. I sometimes wonder if the question was intended to be challenging or if it was an opportunity for me to shine. Either way, I totally bombed it.
A few days later, I was informed I didn't receive the job offer, but they asked me if I wanted the opportunity to debrief. I was appreciative that they made time to help me understand what my strengths and weaknesses were. After walking away from the debrief meeting, I had a list of takeaways that were going to help me become a stronger candidate the next time an opportunity came up.
Client Service Manager
A few months later, an opportunity arose for a General Duties CSM position and I put my application in without a second thought. I soon found myself sitting in the same boardroom with the same two Directors, and sure enough, the same question I bombed was asked once again.
"Tell me what you know about margins?"
Thankfully, after my previous interview, one of the first things I did was research margins to enhance my understanding. This allowed me to showcase my knowledge in the interview, while also checking off all the boxes from the takeaways they provided during the debrief meeting. As a result of my efforts, I was offered the position.
My first two days as a CSM were two of the most overwhelming days in my tenure with Paladin. My circumstances were a bit unique since the CSM I was taking over, only had two days before he moved out of town. This meant he had two days to introduce me to all his clients, supervisors, and programs. After that, he handed me a flash drive of all his files, along with his personal cell phone number so that I could call him at anytime. I went home that day and spent the rest of the night going through countless documents, including post orders, budgets, incident reports, and meeting minutes.
Day three and onward were a bit more "normal". I was provided a more typical orientation and met many people that were very pivotal to my success in both my role and continued growth in the organization. The support given to me by my leaders and colleagues especially helped me round out my skillsets as a manager. As each day went on, I realized more and more that I knew less and less. There were many challenging and stressful situations, but I was fortunate enough to have had continued support and good mentorship to get me through each difficult time.
Sr. CSM, Operations Manager, and Director of Operations
The next few roles I held in the organization happened a bit more naturally, as I did not apply for any of them but rather, I was recommended. These positions include Sr. CSM, Ops Manager, and Director of Operations. As Director of Operations, I was involved in every single department in our branch, including overseeing our CSMs, Operations Centre, Mobile Division, Scheduling Department, and our People & Culture team.
Director of Innovation & Transformation
The position I hold now, Director of Innovation & Transformation, is a newly created role that sits within the Corporate Services team. This team includes HR, NQSS, IT, and Marketing. I will also be reporting to the Executive Vice President, Corporate Services, Patrick Mann.
In this position, I will be responsible for transforming our various sources of data into business intelligence that will improve our processes and drive organizational change. I am very passionate about finding new ways to improve our client and employee experience. To my luck, this role was added to continually seek new ways to do just that, while also improving our operational outcomes.
I am very excited to have Innovation & Transformation Coordinators, Andrew Lee and Devon Bowie, a part of this team as well. Andrew and Devon are responsible for acquiring and cleaning data from our various systems. This data is then used to develop insights into our employees and client's performances, which will provide recommendations to drive improvements where they're needed most. It will also unify our methodology of recording information across the company, allowing comparisons between different business units to be conducted in a standardized way.
How Do I Ask for a Promotion?
Jeff Peng: For anyone who is interested in advancing their careers in the organization, I recommend they talk to their supervisors as soon as possible. Regardless if they're unsure or not ready at the time, I still encourage they do this. We have a lot of amazing people in our company who are willing to take the time to prepare you for your future career steps.
Additionally, the trick to being successful (among other things) is advanced preparation and demonstrating capabilities before actual opportunities arise. Patience and stick-to-itiveness are also important, and sometimes essential, when looking to grow within a company.
How Can I Stand out for a Promotion?
Jeff Peng: Three qualities I look for when hiring or promoting individuals, which is borrowed from Warren Buffet, are:
Intelligence
Initiative
Integrity
Highlighting how you embody these three qualities in your work experience, work performance, and personality, will help to increase your chances of being selected for a position.
– x –
Please join us in congratulating Jeff Peng on his recent achievement by leaving a comment below!
Reader Interactions