At Paladin Security, we believe the best way to create a strong team is through employee development and our promotion-from-within philosophy. Through our development programs, an employee can plot their own career path within our organization, lending stability to our workforce. In our bi-weekly feature, Paladin Then & Now, we're showcasing some of the amazing and inspirational stories of our employees rising through the ranks. This week, we're featuring Candace Skinner, Security Programs Manager.  
Candace Skinner | Security Programs Manager
Where She Started
Candace joined the Paladin Family in July of 2013 when she moved to Victoria, BC. She started working overnights at a local 24hrs grocery store before earning a full-time schedule at the Royal BC Museum. She worked in the IMAX and Archives, and after a few months, was trained for overnight shifts on the control desk, which turned into afternoon and floor shifts. In the fall of 2015, Candace was promoted to Assistant Supervisor at the Museum. A year and a half later, while still acting as assistant supervisor, she started as a trainer for the Victoria Branch where she became certified in CPI and MOAB. Candace continued to hold both those roles until she was promoted to Security Programs Manager in February 2020.  
Promotion From Within
When Candace first joined Paladin, she wasn't aware of the company's promotion from within philosophy, but soon found out thanks to her assistant supervisor at the time, Steve Eastman. Candace started using her 30-minute break to learn more about the control desk, and Steve encouraged her to complete LMS courses to help improve her knowledge. When he was promoted to Site Supervisor, he encouraged her to apply for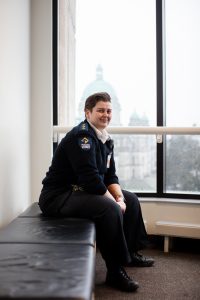 the position he just left. She says she remembers him saying, "It doesn't mean you will get it, but it will show everyone that you are willing to move up". While she didn't get that job, she did get another shortly after, and Steve continued to help teach and push her to do more.  
Transitioning from Field to Office
Candace says her transition from officer to the office wasn't a hard one since she worked with or spent time with almost everyone before. She says that rapport with the office team helped with her learning curve. 
Working for Paladin
For Candace, picking her favourite thing about working for Paladin isn't easy. She says in every position she's been in, there have been things she's enjoyed. When she was working at sites, she liked interacting with the guest and staff of buildings. When she was teaching, she loved that it gave her a nice feeling when she was able to work with new staff and teach them new skills. Now, it's helping her team and encouraging them to apply for new opportunities, and helping them see all the potential that they have. 
Advice to Others
"I think the best advice I can give is to believe in yourself. I think it is one of the hardest things to believe. But remember that others see us through different eyes and they see things that we don't. At times they can help us see what we are able to do before we see it ourselves." 
Reader Interactions