In 2020, major cities across Canada experienced an increase in commercial break-ins during the onset of COVID-19. According to CBC, Vancouver, BC experienced a 147% increase in commercial break-and-enters from March to April when comparing the same period in 2019.
While having full-time security officers on site is an extremely effective way to help deter crime, it is not always a viable option for every business. Instead, options like mobile patrol and alarm response can be an equally effective solution to securing to your business.
In this article, we highlight three reasons why mobile patrol will improve safety for your business.
1. Cover Multiple Locations
Mobile Security Officers use well-marked security vehicles and are highly trained to provide patrol checks that are tailored to a variety of industries, including:
Retail Stores
Open-Air Shopping Centres
Commercial Offices
Warehouse or Storage Facilities
Light / Heavy Industrial
Campus Patrols for Post Secondary Education Institutions
Automotive Dealerships
Restaurants
Parking Lots and Garages
At Paladin Security, our Mobile Security Officers also use TrackTik for Patrol Verification, Incident Reporting, and detailing Alarm Responses. TrackTik is an easy-to-use software that connects our front-line mobile security team with management, back office, and our customers, all in one place.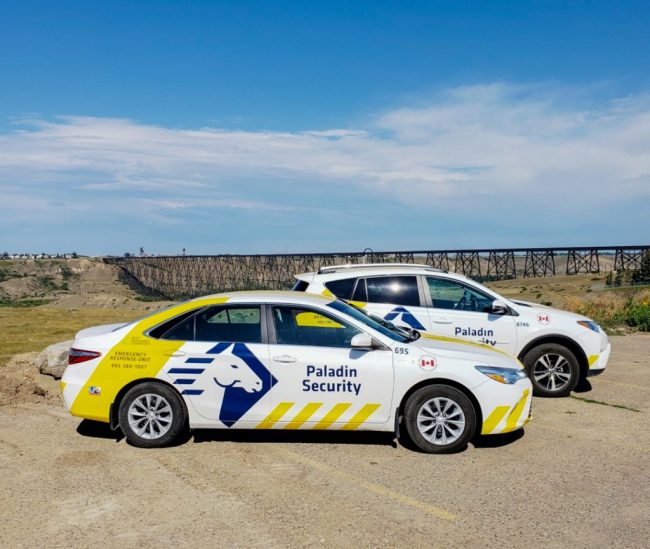 2. Efficient Alarm and/or Emergency Response
From retail stores to heavy industrial properties, all businesses are more secure with in-person security personnel, including mobile security patrols. Critical to maximizing the effectiveness of the mobile security patrol is the necessity for the Mobile Security Officer to exit the vehicle and perform the patrol by foot. If anything appears out of the ordinary while on patrol, such as a suspicious person, sound, or scent, Mobile Security Officers will promptly deal with the situation. They do this based on incident escalation protocols and pre-agreed upon instructions, which are accurately detailed in TrackTik.
Faster Than Emergency Responders
When an incident occurs, Mobile Security Officers can handle any situation as a result of their advanced training. If an alarm occurs in between randomly scheduled mobile patrols, our Operations Centre can locate the nearest available Mobile Security Officer by GPS and dispatch them to immediately respond to your site. Similarly, if a tenant or member of your staff observes a security incident, they can call our Operations Centre and ask that they dispatch the Mobile Officer as an emergency response. In both situations, Paladin Security is able to respond faster than other emergency responders on average, due to the way in which these types of security incidents are prioritized.
Mobile Security Officers respond to a variety of alarms, including burglar alarms, fire alarms, dropped 911 calls, and anything that requires after-hour access to buildings. They can also provide Safe-Walk Services to escort individuals from their workplace to their vehicles. In some instances, our Mobile Security Officers will even walk people to the nearest public transit access point, such as a bus stop or SkyTrain station, and wait there with them.
Mobile Security Officers also walk through facility spaces to see if there is:
Property damage or safety hazards to the property
Unlocked doors or windows that should be locked
Unauthorized person(s) on the premises
Suspicious activity

3. Cost-Effective Option
If you're thinking, "My business doesn't require a full-time Security Officer", you might be right. However, electronic security systems, such as a burglary or CCTV system, are mostly reactive and only offer some level of deterrence. Essentially, you only are contacted after the damage occurs, which means your paying the insurance deductible before paying increased premiums in the future.
This is why mobile patrol is the perfect security solution for you.
Mobile Security Officers vs. Static Security Officers
It is important to keep in mind that there is a difference between static Security Officers and Mobile Security Officers. A static security program is when a Security Officer is stationed at a specific location for a fixed period of time, typically spanning 8 or more hours per day. A well-designed Mobile Security program can often achieve the same desired outcome with as little as three random 15 to 30-minute patrols. Therefore, instead of paying for a static Security Officer to sit idle in between patrol, mobile security patrols can be scheduled to occur within the same windows of time without you having to pay when they are idle.
The Cost of Hiring Mobile Security
On average, a Security Officer working 8-12 hours per night can cost between $6,500-$9,500 per month. However, a Mobile Security Officer with three patrols per night would only cost approximately $1,000 per month. At Paladin Security, we can confidently state that a mobile security program can often be 85-90% more cost effective than a static security program. Although, this will depend on the security risks, trends, and history of the property.
A security program will not always be sufficient for a site with an elevated level of risk or where insurance requirements dictate a 24/7 presence. However, most properties with less frequent incidents can deter security incidents with a well-designed mobile security program. Additionally, you can rely on supplementary Alarm and Emergency response as required.
High-Visibility Security Vehicles
Lastly, the regular presence of a well-marked security vehicle is also a very effective tool in deterring criminal activity at your property. While the Mobile Security Officer is properly performing their mobile security patrol by foot, we typically park the high-visibility security vehicle in the most high-profile area to serve as a secondary deterrent. The tools and reporting that our mobile team uses can also detect trends and offer improvements to your facility, including improved lighting, security systems, or rescheduling patrol times.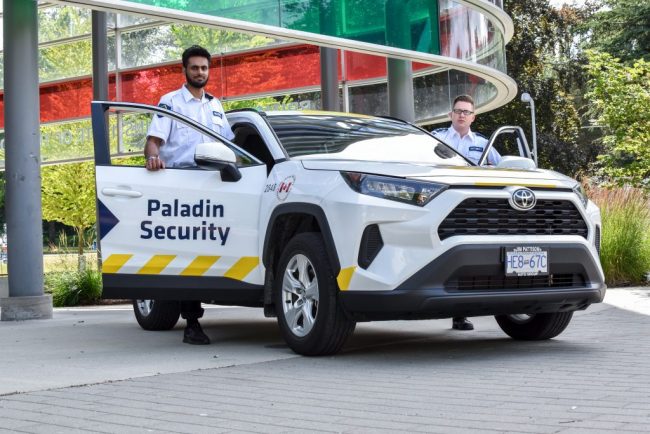 Why Hire Paladin's Mobile Security Officers?
Effective Action & Detailed Accountability
Paladin's Mobile Security Officers are trained to make smart, on-the-spot decisions when time is of the essence. This allows us to always ensure the safety of our clients, their property, and the community. We also immediately contact our clients or the representatives of the property depending on the severity of the incident and in accordance with their instructions. The information will then be available for their review the very next morning through our client portal.
Detailed Insight Using TrackTik Patrol Verification System
Paladin uses the best technology for patrol verification. Through TrackTik, our Mobile Officers electronically document when they arrived at your facility, what locations they checked, and when they left. They can also customize to clients needs using this software. In addition, our Mobile Officers are supported by our 24/7 Operations Centre for any escalations.
Environmental Responsibility
As an ISO14001:2015 registered company, Paladin has an Environmental Management Plan. Where practical, we have converted our Mobile Patrol fleet to hybrid vehicles, greatly reducing our emissions. We constantly revise our mobile patrol routes to keep them fresh and unpredictable, but we are always looking to create efficiencies and eliminating fuel consumption where possible. We also use GPS to identify the nearest mobile vehicle for faster responses, which also limits distances traveled. As a result of our reduced carbon footprint, we have been able to pass these energy savings back to our valued customers.
By investing in mobile patrol with Paladin Security, your business can continue to drive forward while our Mobile Security Officers assure your safety and peace of mind.
Contact your local branch to find out how Paladin can add value to your business.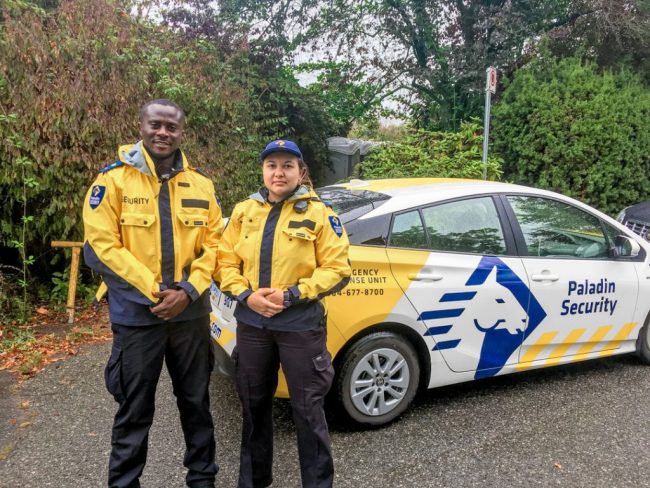 - x -
Read other blogs related to mobile patrol and prevention tips:
Reader Interactions