As a Mobile Security Officer, every day is different when you're resolving trouble in a sleek ride.
Fasten your seatbelt! This article explores the importance of mobile security and the rewarding reasons to become a Mobile Security Officer.
Part 2: A Mobile Security Officer's Journey
Part 3: Paladin's Mobile Security
Part 1: Mobile Security
What is Mobile Security?
Mobile security is intended to support security services in a space where static coverage may not be required. Static coverage is when a Security Officer is stationed at a specific location for prescheduled hours. Therefore, our mobile patrol security services are for clients who do not require this level of dedicated service or want to augment static security with mobile service.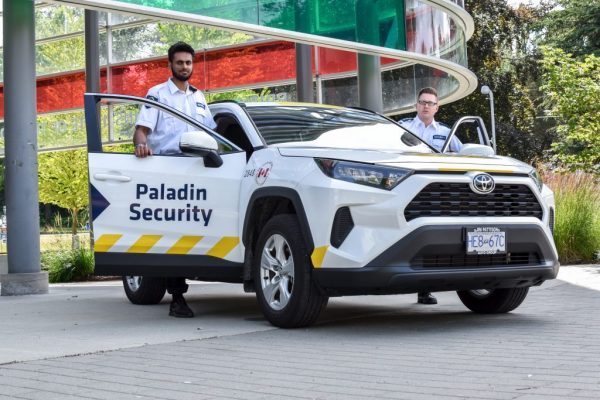 What Does a Mobile Security Officer Do?
A Mobile Security Officer is responsible for visiting and supporting up to 30 different sites on any given shift. Therefore, they must be highly trained in order to make smart decisions and take effective action when issues arise.
A Typical Shift for Mobile Security Includes:
Patrols properties strategically and "randomly", usually after hours when properties are unoccupied
Scheduled lock ups and unlocks where clients are not available to do so
Responds to alarms if a client intrusion system is activated
Removes unauthorized persons of interests from private property
Provides safe walks for clients by walking their staff to their vehicles at night
Supports static coverage Officers in the event of emergency situations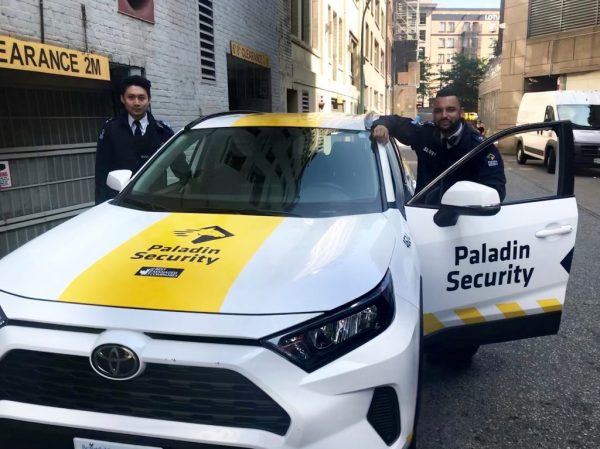 Why Is Mobile Security Important?
Do you need someone to lock doors at a certain hour or check properties overnight? These are only two of the many reasons why mobile security is an important service for certain clients.
Swift Action
If anything appears out of the ordinary, Mobile Security Officers will promptly deal with situations. They do this based on incident escalation protocols and pre-agreed upon instructions.
Coverage for All Locations
Mobile Security Officers are highly trained to provide patrol checks for a variety of industries, including:
Office buildings
Strip malls
Condominiums
Educational Institutions
Healthcare facilities
Parking lots
Warehouse facilities
Construction sites
Cost-Effective
Mobile Security Officers are also a cost-effective way to secure properties. In other words, they allow companies to avoid needing to hire a full-time, stationed Security Officer at their premise.
Known Presence
Mobile security provides the benefit of deterrence through known presence. Brightly coloured uniforms and branded security vehicles can help ward off unsafe behavior and loitering.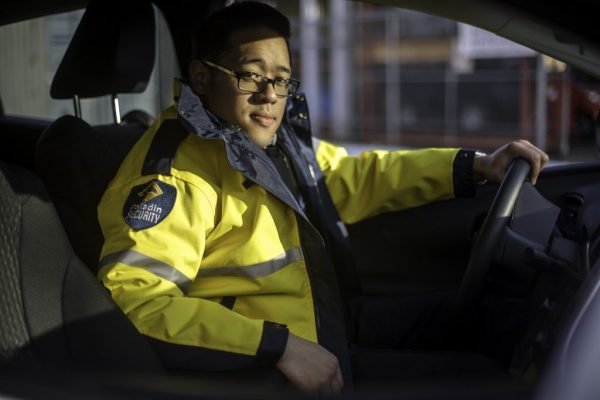 What is the Role and Responsibility of a Mobile Security Officer?
Mobile Security Officers answer alarms and dispatches from several alarm monitoring stations. These alarms include burglar alarms, fire alarms, dropped 911 calls, and anything that requires after-hour access to buildings. They also walk through client spaces to see if there is:
Damage or hazards to the property
Suspicious activity
Unlocked doors that should be locked
Unauthorized person(s) on the premises
In addition to uniforms, Mobile Security Officers also receive a marked and well-maintained vehicle to stand out and make their presence known.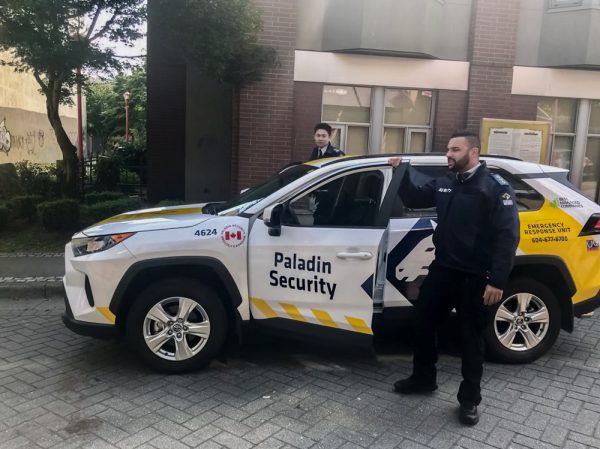 What Are the Benefits of Working in Mobile?
Higher Pay
In addition to receiving training at no cost, our Mobile Officers also receive industry leading payrates.
Flexible Shift Schedules
Mobile Officers have a lot of flexibility for their shift. Meal breaks are paid and can be taken at the Officer's discretion. The order of patrols can also be somewhat varied to what the Officer feels is necessary when responding to security risks.
Every Day is Different
There is a lot of variation to Mobile shifts. Unlike a static guard who is posted at the same building every day, the Mobile Security Officer will see many sites and find that each shift presents its own unique challenges. Mobile security also offers variation between vehicles and can include sites that are busy or quiet, remote, rural and urban.
Valuable Experience for Law Enforcement
Mobile Security Officers are also in higher demand by police or emergency services. Since Mobile Officers deal with emergency services during their duties, they gain valuable experience responding to incidents. In addition, they conduct patrols and do rotational shift work, which provides them with a more comprehensive view of what a police officer's role entails.
Part 2: A Mobile Security Officer's Journey
Interview with Alvin Thomas
Meet Alvin Thomas, a former Mobile Fleet Coordinator who joined Paladin Security to obtain relevant law enforcement experience.
After hearing great reviews through colleagues and friends, he had no reason not to join Paladin Security. Alvin decided to apply to an opening on Paladin's website, and shortly after he accepted a Security Officer position.
Alvin became fascinated in Mobile Security after his first two months of employment. When he brought this to his supervisor's attention, they mentioned how impressed they were with Alvin's work ethic. As soon as a position on the mobile team became available, Alvin applied internally and received his first promotion.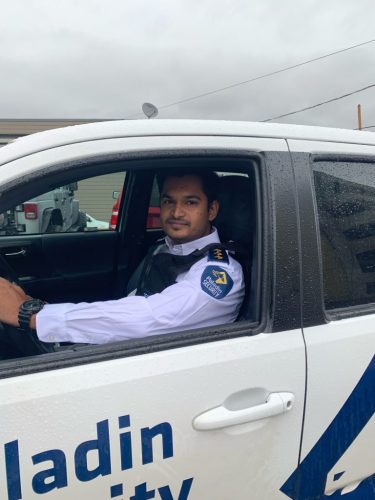 In his new role, Alvin's work duties fell under the Responsibility of a Mobile Security Officer. His favourite part of being on the mobile team was responding to emergency alarms.
 Every time you showed up to a scene, you enhanced your decision-making skills and got to learn something new. I also love to drive, so that really helped too!
- Alvin Thomas
While working with Paladin's mobile team, Alvin also had the chance to work with emergency service crews. This enhanced his ability to take fast and efficient action on security calls. In addition, working with emergency service personnel has allowed Alvin to gain first-hand knowledge on the duties of a law enforcement officer.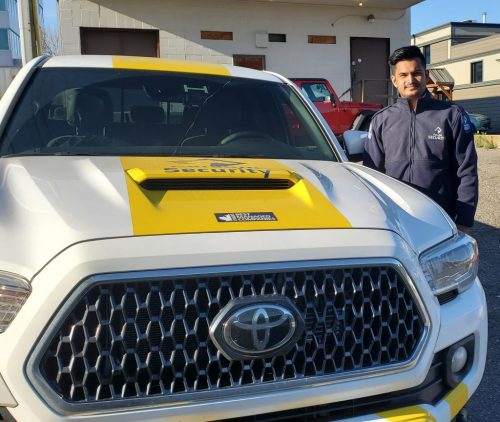 After a year and a half as a Mobile Security Officer, Alvin was promoted to Mobile Supervisor. He quickly accepted this offer and continued to thrive in this role for another year.
This past June, the opportunity to become the Administrator of People and Culture for Paladin's Prince George branch became available. With years of security experience under his belt, Alvin took on a new challenge by applying for and accepting this new role.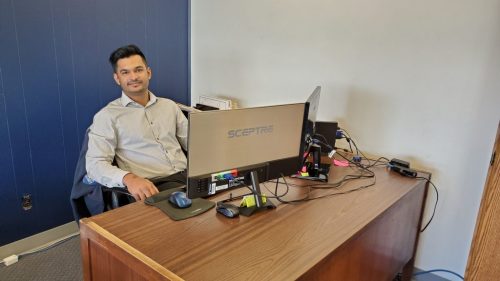 We are very proud to have a dedicated and knowledgeable individual, such as Alvin, a part of the Paladin Family. Alvin is also grateful for the experiences he has received at Paladin Security.
Paladin is one the best companies I have had the privilege to work for. Their ability to recognize the hard effort that individuals put into their roles, does not go unnoticed. They do an amazing job of providing opportunities to continue learning, developing, and growing.
- Alvin Thomas
Part 3: Paladin's Mobile Security
Patrol Services for Your Property
Paladin's Mobile Security Officers are trained to make smart decisions when time is of the essence.
Our Mobile team is a group of elite Security Officers who lead in emergency situations and take fast action to ensure the safety of our clients, their property and the community. Our Mobile Officers also electronically document when they arrived at your facility, what locations they checked, and when they left. They can also produce incident reports. In addition, they are also supported by our 24/7 Operations Centre for escalations, and informational and dispatch support.
Not only do we provide detailed accountability, but Paladin is also a 'green' company. In other words, we are proudly certified in  ISO14001:2015 standards of environmental management.
Our large fleet of vehicles are also amongst the most fuel efficient in the security industry. In addition, we have reduced our carbon footprint while delivering these energy efficient savings back to our amazing customers.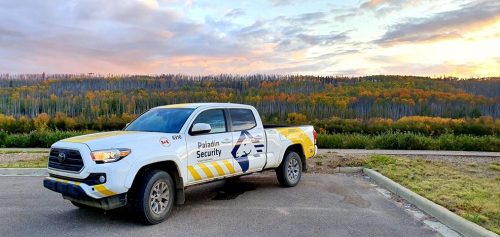 Requirements to Start in Mobile
Paladin not only prides itself on supporting the safety and security needs of clients, but also supporting the growth of our Paladin Family. To join our elite mobile team, you will need:
Security license.
Valid driver's license and clean driving abstract.
Clean criminal record.
A fair amount of physical ability, as there are often a number of stairs or a fairly lengthy amount of walking included in mobile shifts.
Willingness and ability to work independently and unsupervised.
Good report writing skills are a great asset, as is the ability to communicate clearly. Individual Officers are often responsible for escalating issues to clients, emergency centres, or police. Being able to clearly explain an issue is necessary to resolve it.
Does Mobile sound like a good opportunity for you? Apply now!
Visit www.paladinsecurity.com/careers or talk to your ECC today.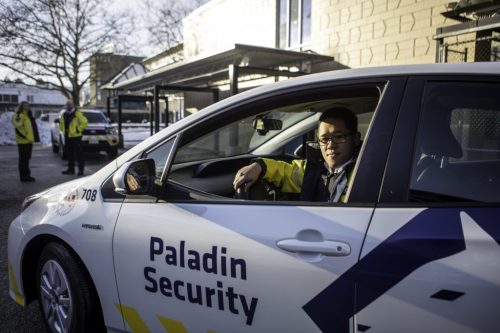 Reader Interactions