Jessie Cross is an amazing role model for women who are looking to enter the security field.
As a Security Officer with our Fort McMurray team, Jessie's interest in Paladin grew from her passion to become an Emergency Medical Responder. Although she has been with Paladin for less than a year, Jessie consistently brings dedication and a reliable work ethic to each and every one of her shifts.
We recently spoke with Jessie, who is positioned at the Albian Sands site, to explore her motivations to joining the security industry. Discover her advice for women who are interested in a career at Paladin Security.
Women in Security: Jessie Cross
How long have you been with Paladin Security? 
I have been a Security Officer at Paladin for 7 months now.
What motived you to join the security industry? 
What initially motivated me to join Paladin was my interest in gaining knowledge in the field of security. A career goal of mine is to also become an Emergency Medical Responder. I knew that if I joined the security industry, I would gain relevant experience in customer service when assisting emergency situations.
What unique traits do you believe women bring to security? 
I believe women bring an empathetic trait to the industry. During my time at Paladin, I have witnessed how women have the ability to easily empathize with people. I believe our nurturing spirit allows us to deeply understand the complex situations and emotions that individuals go through.
Paladin Security has a very positive and team-oriented atmosphere. Working with unique teams, such as my Alpha Team at Albian Sands, helps to bring a variety of skills to the workplace. The connections I have made with my team also makes coming to work even better, since I really enjoy the work environment.
What is the best piece of advice you received that you want to pass on?
In the security industry, it is important to know how to properly communicate and work as a team. A single action from one person, could end up negatively affecting the image of the entire security team and company. The best piece of advice I received is to always be polite to your team members, as well as to the client, since it will benefit your personal and professional growth in the long run.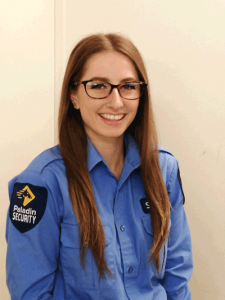 Supporting Women at Paladin
Jessie is one of the many successful women at Paladin Security who embody our company's core values. To foster the growth of each individual at Paladin, we believe in Promotion from Within. By offering management and leadership training, as well as providing personal career coaching, Paladin is committed to preparing our people for success.
We thank Jessie for her commitment to making the world a safer and friendlier place!
-x-
Paladin's Women in Security blog series celebrates the outstanding women at Paladin and the differences they are making in their communities and the world. We believe diversity makes us thrive. By acknowledging what makes us diverse, Paladin is paving the way towards a bright and inclusive future.
If you are interested in joining our team, we encourage applicants from any gender, age, race, and ethnicity. Apply now at: www.paladinsecurity.com/careers
Reader Interactions