Becoming a security guard in Alberta is a great way to get started in the security industry. There are many different jobs and opportunities out there where you can grow your career into something that is truly meaningful to you. Security guards are essential to keeping businesses and other facilities safe, and this is especially true in Alberta. The province is home to many large cities, including Edmonton and Calgary, as well as smaller towns and rural areas. These areas need security guards just as much as the big cities do, so there are plenty of opportunities for you to find work if you're willing to put in the time and effort necessary to succeed.
To become a security guard in Alberta, you'll need to know what it takes to get licensed and trained. In this article, we'll discuss the qualities and skills required to become a security guard in Alberta, how to get your Security Licence, how much training is required, and what education is needed to become a security guard.
Qualities and Skills to Become a Security Guard in Alberta
The first step on your journey toward becoming a licensed security guard is acquiring the proper education. You will need at least one year of post-secondary education or training in law enforcement, firefighting, or related fields, such as emergency medical technician (EMT) training. In addition, there are some things that you should know before applying:
Be able to pass an entrance exam and physical fitness test
Be able to speak English fluently because most training programs are taught in English only (unless otherwise noted)
Possess excellent customer service skills because you will often interact with clients and the general public. Make sure to list any customer service experience in your resume when applying for a security guard job. Here is a guide and a

free downloadable template for writing the ideal security guard resume

.
Security Guard Licencing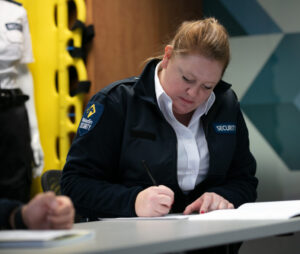 The second thing you need to do is get your licence. Licenses are issued under the Security Services and Investigators Act by Alberta Justice. The security service licensing fee is $100 and is valid for two years. Your individual licence is portable. This means your licence is still valid if you change employers or work for multiple employers.
To apply for a licence, you must:
Be over 18 years old
Be eligible to work in Canada
Be fluent in English
Have no criminal record
Have no outstanding criminal charges
Not be the subject of a criminal investigation
All security service workers must meet a specific English fluency standard. This is a level 5 benchmark, according to the Centre for Canadian Language Benchmarks.
Training Required for your Licence
All security service workers must:
Successfully complete an approved security training course
Score 80% or higher on the provincial final exam
There are two approved training courses. Take either the:
Alberta Basic Security Training Course, or
Accredited Basic Security Training Course
These courses must be completed through an approved training provider. After you've successfully completed your final exam with a score of 80% or higher, you'll get your training certificate by mail within one week.
If you meet all the requirements, follow these steps and apply for your security licence here. The renewal process is the same as the initial application. Once you have your licence, it's time to find work!
Training Never Ends
There are numerous courses, certifications, and training opportunities for security professionals. Some of these are mandated by the company, some are required by contracts, some are recommended to support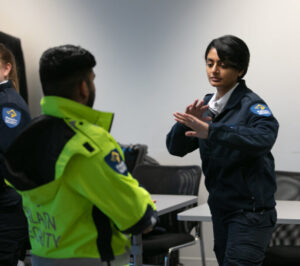 development, and some are advanced and designed to address specific challenges/environments.
When it comes to training, Paladin takes great pride in being nationally recognized as the leading training organization in the industry. Our company-paid and on-the-job training ensure that newcomers to security are ready to perform with the tools and confidence they need to succeed in their field. We'll even help you prepare for provincial licensing exams and tests. Paladin Security also has an ever-evolving catalogue of on-demand training courses available to all Paladinians.
Meet some of our outstanding Paladin trainers: Xavier Youngsue, Alessandro Caperna, Sean Crawford, Anthony Suppa, Noah Tufts, and Norm Bettencourt.
Things to Know Before Applying
To work as a security guard and be successful, you need excellent people skills and a willingness to help and engage with the public.
If an individual is an introvert or very shy, working in security might not be an ideal place for them.
Although there are daily routines and job requirements, no two days are alike. You never know what will happen, and you need to be ready to respond to any security situation that may arise.
As a security guard, you will learn new things every day, so take those opportunities to grow. Be professional, put your best foot forward, and be enthusiastic about your work because it makes a difference, and people will notice when you put in good work. Paladin also provides some great reasons why you should choose security as a career.
Kickstart your Security Career
We hope you found these tips and information useful for your new security career. If you are looking to join the exciting world of security, check out our careers page and read our blog on how to prepare for a security guard interview.
Paladin strives for the constant evolution and growth of our people. The first value of Paladin's C.A.R.E. culture is to be "Curious" by seeking opportunities to learn and grow. Through our promotion-from-within philosophy, employees can plot their own career paths within our organization. We would love to see you grow and take your security career to the next level with The Paladin Family. 
Be sure to listen to The Difference Makers podcast and read our blog to learn more about us and the exciting world of security.
Reader Interactions